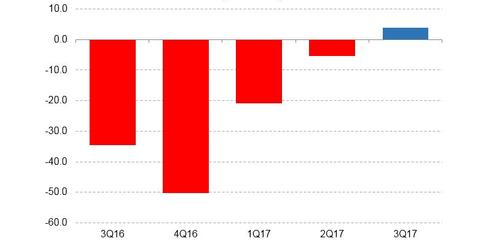 Is Groupon's Profit-before-Revenue Strategy Working?
By Neha Gupta

Updated
North American revenue fell 14%
In its 3Q17 results, Groupon (GRPN) repeated its strategy that its priority is maximizing profits. It added that its focus on improving profitability may come at the expense of revenue. That seems to be already happening, as revenue declined for the third consecutive quarter in 3Q17.
In North America, Groupon recorded a 14% YoY (year-over-year) fall in revenue, with a weakness in the Goods segment lowering its top line. North America's Goods sales fell 30% YoY in 3Q17. Groupon reports revenues in three segments: Goods, Local, and Travel. Local is Groupon's highest-margin segment, and thus the company puts an emphasis on this category.
Gross profit rose 6%
Groupon's global gross profit was $309.4 million in 3Q17, a rise of 6% YoY. The gross profit gain was supported by a 7% YoY increase in the gross margin for its North America Local segment and a 15% YoY rise in its international Local gross profit.
The improvement in global gross profit saw Groupon's adjusted EBITDA (earnings before interest, tax, depreciation, and amortization) rise 43% YoY to $46.6 million. EBITDA is a non-GAAP (generally accepted accounting principles) measure of profitability.
Groupon ended profit drought
In 3Q17, Groupon was able to end its profit drought, posting a net profit from continuing operations of $3.8 million. The company suffered a net loss of $34.5 million in the same quarter last year.
Groupon's e-commerce (QQQ) peers Amazon (AMZN) and eBay (EBAY) reported net profits of $256 million and $523 million, respectively, in 3Q17. Overstock.com (OSTK), another Groupon peer, suffered a net loss of $0.8 million in 3Q17.
If profit is all that matters, Groupon's emphasis on maximizing gross profit rather than driving revenue growth appears to be working so far.