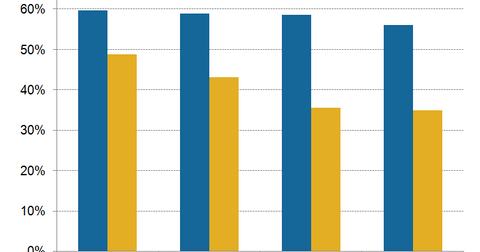 Gross Margins for QCOM, MediaTek, and Spreadtrum in 2018
By Puja Tayal

Updated
Why did the gross margins of smartphone chipmakers fall?
In this series, we've seen that Apple's (AAPL) suppliers are vulnerable to the handset maker's production bottlenecks and reduced iPhone demand. Large handset makers Apple, Samsung (SSNLF), and Huawei have moved to custom SoCs (system on chips), which significantly reduced the revenues of smartphone chipmakers Qualcomm (QCOM), MediaTek, and Spreadtrum Communications.
The smartphone market has been slowing in the past few years as the industry has grappled with technology stagnation. Smartphone makers have not launched breakout designs, features, and applications in their new phones, which discouraged consumers from upgrading their existing phones. During this timeframe, Chinese (FXI) handset makers gained momentum, offering high-end features in midrange phones.
This trend led smartphone chipmakers into a price war to secure orders from Chinese smartphone vendors. The growing price war has impacted the gross margins of the three major chipmakers. Qualcomm still had high gross margin thanks to its high-margin licensing business.
Article continues below advertisement
Sources: Gross margins of smartphone chipmakers to rebound in 2018
A recent DigiTimes report, citing industry sources, stated that gross margins of the three chipmakers are expected to rebound in 2018. This brings us to explore the events that could revive margins in the smartphone chipset market.
These industry sources stated that smartphone vendors are looking to add more functions and innovative applications such as AI (artificial intelligence), AR (augmented reality), and 5G in their new flagship models in order to command higher prices.
These industry sources supported their statements with several examples. Apple has added 3D sensing technology into the iPhone X. Chinese vendors such as Oppo, Vivo, and Xiaomi plan to follow suit with similar technology in their 2018 models.
Huawei has added AI chips in its Mate 10. Chinese vendors are also looking to add AR functionality and 5G support in their upcoming models.
Looking ahead to 2018
Smartphone chipmakers are developing integrated chip solutions that would enable smartphone vendors to add these functionalities to their handsets. In 2018, these chipmakers could launch specialized chips that demonstrate capabilities in a variety of industry segments.
For instance, Qualcomm's Snapdragon 845 would enable more mature machine learning, enhanced security functions, 4K video capture, and Gigabyte LTE (long-term evolution).
These chipmakers would move away from price wars and compete on technology instead. This shift could help them command higher prices for their chips, thereby improving their gross margins.
In 2018, we could also see the settlement of the Apple–Qualcomm lawsuit, which has significantly impacted the latter's earnings. We'll explore this topic in the final part of this series.