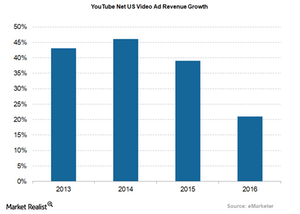 Why Is Google's YouTube Expanding in the Music Streaming Industry?
By Sophia Nicholson

Dec. 29 2017, Updated 7:33 a.m. ET
YouTube partners with Sony and Universal Music
Alphabet's (GOOGL) Google has inked a long-term deal with music recording companies Universal Music Group and Sony's (SNE) Sony Music Entertainment over royalties and copyright rates for music uploaded on the YouTube platform.
The deal with Sony Music Entertainment and Universal Music Group comes after two years of negotiations. This deal is intended to convert its free users to monthly subscribers. YouTube plans to set a royalty rate for music uploaded on the platform.
Article continues below advertisement
Why is the deal important to YouTube?
YouTube's new deal could help YouTube launch a new paid music service, which would be rolled out in March 2018. The new paid music service, called Remix, would allow subscribers to access live concert footage, exclusive music videos, and karaoke tracks.
Remix is expected to operate along the lines of Spotify and Apple (AAPL) Music. The YouTube platform signed a similar deal with Warner Music Group in May 2017.
This deal could also help Google's YouTube make peace with music recording companies. Recording companies have lodged complaints against YouTube regarding payments to artists and copyright breaches. Such deals could help YouTube to strengthen its relationship with recording companies and build a strong subscription business.
Google has been trying to penetrate the music industry owing to the rising trend of online and mobile video consumption. Google released Google Play Music in 2011 and 2014. YouTube introduced YouTube MusicKey, which was added to the company's YouTube Red service in 2016.