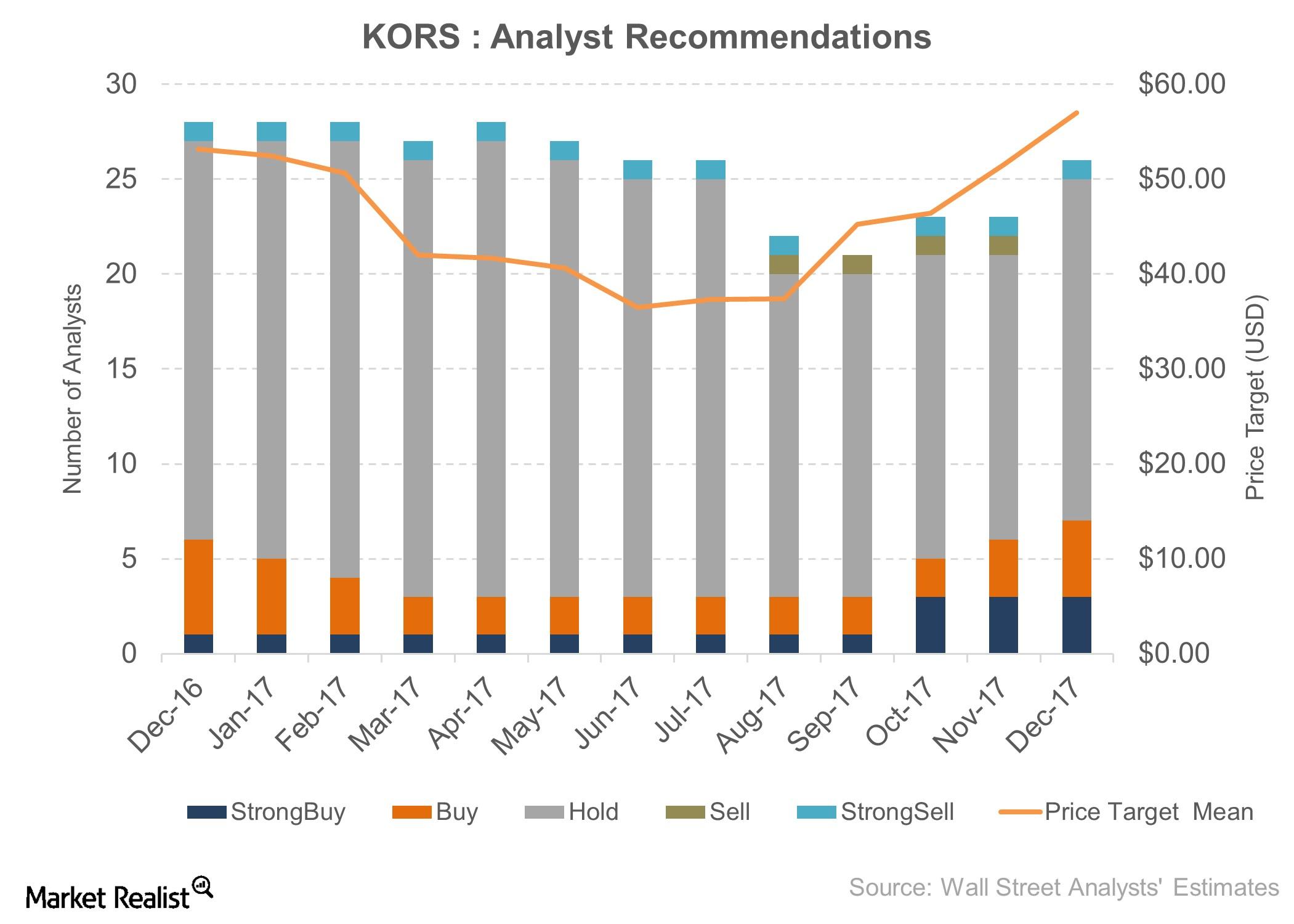 Goldman Sachs Reinstates a 'Buy' on Michael Kors
By Sonya Bells

Dec. 4 2020, Updated 10:53 a.m. ET
Goldman Sachs is positive on handbag makers
Goldman Sachs took a positive stance on handbag makers Tapestry (TPR) and Michael Kors (KORS) on December 5, 2017.
In a client note, Goldman analyst Lindsay Drucker Mann stated: "Sequential improvement in handbag sales trends as well as strong momentum at the luxury end of the spectrum leave us especially encouraged."
Mann noted that the $100–$750 range, in which Tapestry and Kors operate, is "accessible" and believes that the sector is "healthy." Mann also pointed out that there are enough barriers to entry for the sector, with the top five brands accounting for half of the market share.
Coach, Michael Kors, Kate Spade, Tory Burch, and Marc Jacobs are the top five in the handbag segment.
Article continues below advertisement
Goldman reaffirms a "buy" on Michael Kors
Goldman Sachs resumed coverage on Michael Kors with a "buy" rating on Tuesday, December 5. Analyst Lindsay Drucker Mann cited improving handbag trends and expected acceleration in synergies from the Jimmy Choo acquisition as key reasons for the stance.
Mann assigned $70.00 as the price target on KORS, representing a 17% gain potential to Tuesday's closing price of $59.81. The average target price by 26 Wall Street analysts covering KORS is $57.00, which represents a downside of 5%.
The company has been rated a 2.7 on a scale of 1.0 (strong buy) to 5.0 (strong sell). Its ratings have improved over the past three months, after being upgraded by brokers like MKM Partners ("sell" to "neutral") and Canaccord Genuity ("hold" to "buy"). The handbag maker was rated a 2.9 in September.
Kors is recommended as a "buy" by 27% analysts, a "hold" by 69% analysts, and a "sell" by the remaining 4% analysts. The company has delivered a strong performance this year and is looking at YTD (year-to-date) gains of 39%.