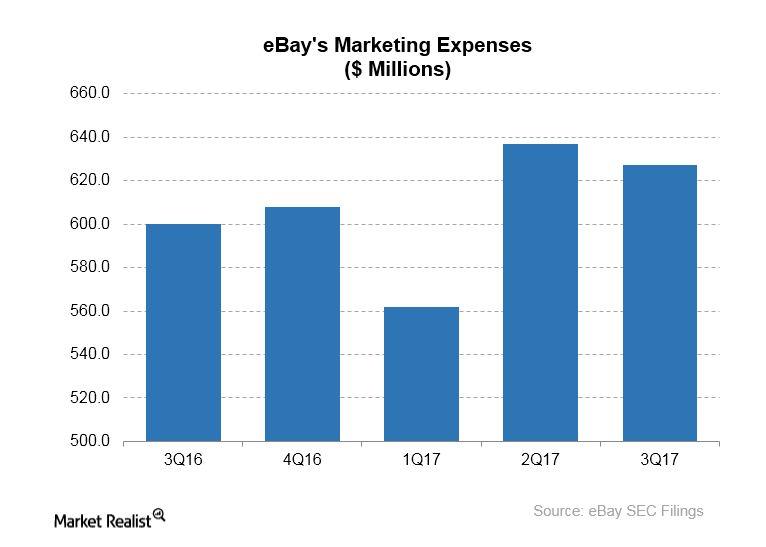 Getting to the Bottom of eBay's Spending
By Neha Gupta

Aug. 30 2019, Updated 10:11 a.m. ET
eBay's operating expenses jumped 8.3%
It cost more cash to keep eBay (EBAY) in operation in 3Q17 than in 3Q16. Excluding the cost of revenue, the company incurred $1.3 billion in operating expenses in 3Q17, compared with $1.2 billion in 3Q16, indicating an 8.3% YoY (year-over-year) increase.
But it wasn't eBay alone in the e-commerce industry whose operating expenses rose year-over-year in 3Q17. At Amazon (AMZN), Alibaba (BABA), and JD.com (JD), operating expenses excluding cost of revenues rose 45.7%, 36.4%, and 40.7% YoY, respectively, in 3Q17. Operating expenses, excluding the cost of revenue, rose 15.7% for Yelp (YELP).
Article continues below advertisement
Marketing activities drove operating expenses
What drove eBay's expenses in 3Q17? In 3Q17, eBay spent $27 million more on marketing activities than it did in 3Q16. The increase in eBay's marketing budget in 3Q17 was due to spending on brand campaigns that the company ran in the United States (SPY), the United Kingdom (EWU), and Australia during the quarter. These campaigns paid off as the company closed 3Q17 with 2.0 million more active buyers than at the beginning of the quarter.
R&D department continues to receive more funds
eBay continued to fuel its R&D (research and development) machine in 3Q17, with the company spending $28 million more on R&D in the quarter than it did in the same period last year. The company is investing in R&D as part of its efforts to enhance user experiences, and it has been able to improve on this front with grouped listings and solutions such as eBay Authenticate—a product verification service.