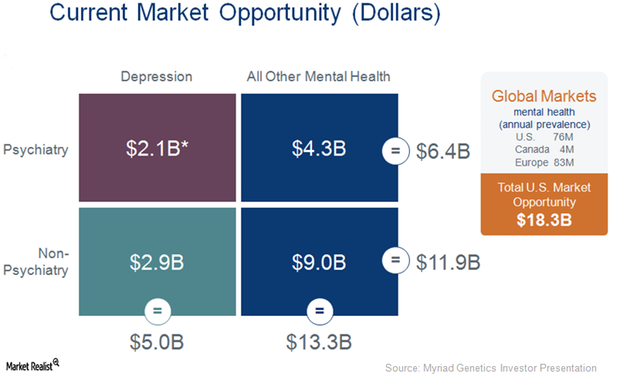 Myriad Genetics Saw Positive Results from GeneSight Trial
Generalized anxiety disorder indication
On October 19, 2017, Myriad Genetics (MYGN) announced positive results from its Impact study, which evaluated the effectiveness of the GeneSight precision medicine test in optimizing therapy for patients with generalized anxiety disorder (or GAD). This trial, which was conducted in collaboration with the Canadian Center for Addiction and Mental Health, involved 9,000 patients. It aimed to study the use of GeneSight in both depression and generalized anxiety disorder indications across psychiatry and primary care channels. In addition to improved treatment response, the trial also demonstrated GeneSight's ability to reduce usage of benzodiazepines, which are associated with abuse and dependence-related side effects.
These results are expected to help Myriad Genetics position GeneSight in the 60 million GAD patient segment, which is even larger than the treatment-resistant segment. Myriad Genetics makes up about 1.6% of the PowerShares Dynamic Biotechnology & Genome Portfolio's (PBE) holdings.
The above diagram shows that the total US market opportunity for GeneSight across multiple neurology indications as well as multiple distribution channels is close to $18.3 billion.
Article continues below advertisement
Clinical data
In October 2017, Myriad Genetics published data from its Impact study at the World Congress of Psychiatric Genetics. The study demonstrated the efficacy of GeneSight in reducing the severity of anxiety symptoms, measured using the GAD-7 metric, in 210 tested patients. Data from this trial also showed that 45% of the patients that obtained therapy congruent with GeneSight results witnessed significant anxiety symptom improvement as compared to only 26% of patients that received non-congruent therapy. With a p-value of 0.03, this statistically significant difference in GAD patients could strongly support the adoption of GeneSight in future years.
Data from the Medco study demonstrated that the use of GeneSight reduces the use of benzodiazepine drugs by 25%. Further, Medco data showed reduced prescription costs for GAD patients of around $6,747 when GeneSight is used to determine optimal therapy. This data could play a major role in future regulatory and reimbursement approvals for GeneSight in the GAD indication.
GeneSight will thus position Myriad Genetics well against other molecular diagnostic players such as Roche Holdings (RHHBY), Qiagen (QGEN), and Novartis (NVS).
In the next article, we will discuss growth prospects for the Vectra DA test in greater detail.