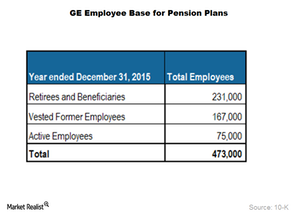 General Electric's Measures to Curtail Its Pension Burden
By Samuel Prince

Updated
General Electric's pension plans
Previously, we analyzed General Electric's (GE) contribution to its pension assets through its own stock. Here, we'll look at corrective actions taken by the company to reduce its pension costs. GE follows a defined benefit pension plan. At the end of 2016, this plan included 61,000 active employees, 168,000 former employees, and 238,000 retirees and beneficiaries.
There's no doubt that pension plans increase GE's financial burden—they extend benefits to non-productive employees. These benefit obligations can be a huge burden for GE and industrial (IYJ) peers.
According to Factset (FDS) and City Research, General Electric was the most underfunded company in 2016. GE's payment of pension benefits is likely to rise every year. As more employees retire, the gap between plan assets and pension obligation will likely keep growing.
Article continues below advertisement
GE's measure to reduce pension costs
In its investor update on November 13, 2017, General Electric announced that it would borrow $6.0 billion to pre-fund its pension obligations for the next three years, resulting in $2.0 billion in debt per year. Since interest rates are currently expected to rise, GE may be aiming to reduce expected future interest payments.
Whereas GE CEO John Flannery may be just converting one debt obligation into another debt obligation, a 50% reduction in yearly cash dividends could provide some cushion to the company. Plus, the company may substantially trim down its buybacks, which stood at $21.0 billion in 2016.
According to Bloomberg, on December 7, General Electric announced the cut of 12,000 GE Power jobs, ~18% of the segment's employees. This cut could curtail the company's pension costs going forward—the company hopes to save $1.0 billion in 2018 due to proposed job cuts.
According to The Wall Street Journal, General Electric is working to align its assets with the maturities of future payments. Other major companies, such Boeing (BA), IBM (IBM), and General Motors (GM), are moving to defined contribution plans to reduce employee-related liabilities. In the last part of this series, we'll discuss the impact of interest rate changes on GE's pension obligations.