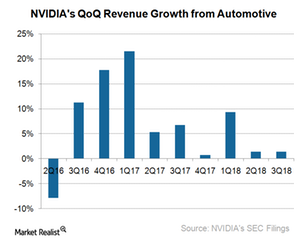 Gauging the Future of NVIDIA's Automotive Business
By Puja Tayal

Updated
Automotive earnings
NVIDIA (NVDA) has been expanding its AI (artificial intelligence) technology across various verticals. Automotive is one of the biggest verticals, with one of the most immense growth potentials, but NVIDIA currently earns all its automotive revenues from car infotainment.
That said, its automotive revenue growth has slowed in the past two quarters, with revenues growing just 1.4% sequentially. This has made many analysts question the company's management about the slowdown.
Article continues below advertisement
In response, NVIDIA chief executive Jen-Hsun Huang stated that the company has reduced its emphasis on infotainment to focus on its Drive PX automotive AI platform, which has caused its automotive revenues to slow. The outcome of these efforts, however, will likely be visible in fiscal 2019, when it ships AI platforms for training in Tesla (TSLA) and Toyota Motor (TM) models.
NVDA has also partnered with the global package delivery service DHL and automotive supplier ZF to test autonomous delivery trucks in 2018. DHL will outfit electric light trucks with the ZF Pro AI self-driving system.
NVIDIA's developments in automotive
NVIDIA is currently working with over 200 companies on autonomous driving. These companies range from startups to mapping companies to tier-1 suppliers to OEMs (original equipment manufacturers) to car and truck makers and taxi services. Over 25 companies are now using NVIDIA's Drive to develop fully autonomous robo-taxis.
NVIDIA has meanwhile been accelerating its efforts in the autonomous driving space. It launched its Xavier platform in September 2016, and in October 2017, it announced its Pegasus platform, which it claims can support level-five autonomous driving. The company plans to launch Pegasus by mid-2018.
NVIDIA also introduced the Drive Ix SDK (software development kit), which works as a co-pilot and analyzes the inside environment of vehicles through eye tracking, gesture recognition, and natural language understanding of the driver.
Article continues below advertisement
The autonomous vehicle roadmap from Huang
Huang expects NVIDIA's automotive revenues to grow in fiscal 2019 as the Drive X AI platform hits the road. This platform aims to collect data that can later be used to train networks for autonomous driving.
In fiscal 2020, Huang expects the commercial rollout of robo-taxis, and NVIDIA could start seeing strong earnings from autonomous vehicles soon. Huang expects fully autonomous vehicles to hit the road in late 2021 or 2022.
Huang also expects robo-taxis to come on calendar 2019, but Intel (INTC) could overtake NVIDIA in this race. A recent Intel blog post stated that Alphabet's (GOOG) autonomous car subsidiary, Waymo, is now using its processors and sensors. Waymo is reportedly planning to start an autonomous ride-sharing service in partnership with Fiat Chrysler Automobiles, and some analysts believe that it could commercially launch this service as early as calendar 2018.
Now let's take a closer look at NVIDIA's professional visualization business.