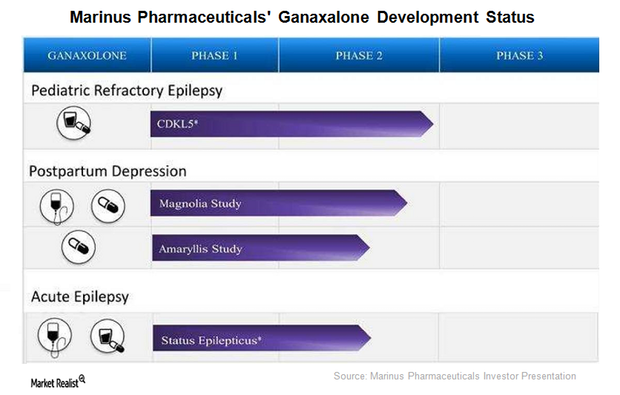 Ganaxalone Faces Stiff Competition from Other Drugs under Development
By Kenneth Smith

Dec. 27 2017, Updated 12:45 p.m. ET
Status epilepticus
Marinus Pharmaceuticals (MRNS) has initiated a phase two study to test the feasibility of ganaxalone in patients suffering from refractory status epilepticus (or RSE). Data from this study is expected in 2018.
SE is characterized by intermittent seizures that last more than five minutes. In April 2016, intravenous formulation of ganaxalone was granted orphan drug designation in the US by the Food and Drug Administration (or FDA).
Article continues below advertisement
Orphan drug designation is granted to novel drugs that treat a disease that affects fewer than 200,000 patients in the US. This designation provides a marketing exclusivity of seven years in the US to the company developing the drug along with tax credits for research costs, assistance in designing clinical research trials, and a waiver of the Prescription Drug User Fee Act (or PDUFA) filing fees.
Agreement with CyDex Pharmaceuticals
Marinus Pharmaceuticals (MRNS) entered a license agreement and a supply agreement with CyDex Pharmaceuticals in March 2017. Under the license agreement, CyDex granted an exclusive license to Marinus to use CyDex's Captistol drug formulation system in regards to the development and commercialization of ganaxalone.
Marinus paid an upfront fee to CyDex as consideration for this license in 1Q17 and is required to pay royalties in single digits to CyDex on sales of ganaxalone. Under the supply agreement, Marinus is required to purchase the required Captistol platform in regards to ganaxalone from CyDex.
Article continues below advertisement
Competitive landscape for ganaxalone
There are drugs under development for treating pediatric genetic epilepsies and mental health conditions by GW Pharmaceuticals, Zogenix, Sunovion Pharmaceuticals, Zynerba, Alcobra, and Neuren Pharmaceuticals. Zogenix (ZGNX) is developing its lead product candidate, ZX008, for the treatment of seizures related to Dravet syndrome and Lennox-Gastaut syndrome (or LGS). In September 2017, Zogenix announced positive results from phase three clinical trials. In this trial, ZX008 proved to be superior to the placebo as adjunctive therapy, which was the primary endpoint of the study.
Zynerba Pharmaceuticals' (ZYNE) product candidate ZYN002 is in development stage for the treatment of Fragile X syndrome (or FXS) and epilepsy. Zynerba initiated a phase two clinical trial to evaluate the efficacy of ZYN002 in children with FXS. This study met its primary endpoint of achieving improvement in a 12-week period as compared to the baseline. The company expects to begin a pivotal program for ZYN002 in the first half of 2018.
Sage Therapeutics (SAGE), which is developing brenaxalone, a modulator of GABAA  receptors, announced positive results from the late-stage study for brenaxalone for treating post partum depression in November 2017.
In the next part of the series, we'll take a look at the financial performance of Marinus Pharmaceuticals.