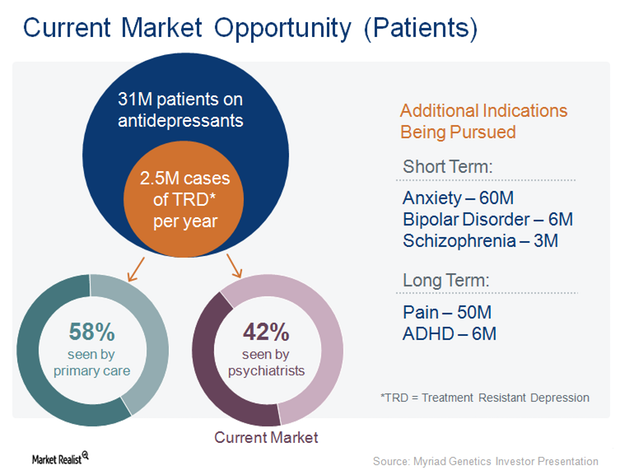 Reimbursement for Myriad Genetics' GeneSight in Fiscal 2018
Full reimbursement for GeneSight
In fiscal 2018, Myriad Genetics (MYGN) expects to witness rapid expansion in reimbursement for GeneSight based on positive results at the end of the eight-week, 1,200-patient pharmacogenomic study. In this context, the company expects the revenue run rate for GeneSight to reach $500 million.
In August 2016, Myriad Genetics acquired Assurex Health and entered the underserved neuroscience market. The deal added GeneSight, a personalized tool that recommends optimal therapy based on 55 antipsychotic, antidepressant, and other mental health medications, to Myriad Genetics' portfolio.
Myriad Genetics makes up 0.10% of the iShares Russell 2000 Value's (IWN) total portfolio holdings.
The above diagram shows the short-term and long-term growth opportunities available for GeneSight in the neurology segment.
Article continues below advertisement
Clinical data
GeneSight demonstrated its efficacy in remission and response parameters determined by HAMD-17 (Hamilton Depression Rating Scale 17) scores less than or equal to 7 and a 50% drop in HAMD-17 scores compared to the baseline, respectively, in the pharmacogenomics study. However, it may have failed to demonstrate statistical significance on the symptoms parameter represented by a percentage reduction in HAMD-17 scores since the GeneSight arm was compared to patients who were given effective therapies that could be modified by physicians at their discretion.
Myriad Genetics has launched its first payer demonstration in Canada with Sun Life Financial and the Centre for Addiction and Mental Health. With a target population of 1 million treatment-resistant depressed patients in Canada, this may prove to be a strong growth opportunity for GeneSight.
GeneSight's revenues in the first quarter of fiscal 2018 have been ahead of the company's expectations. If there is further expansion in reimbursement for the test, the company expects to revise its fiscal 2018 financial guidance upward. It has also projected that coverage for GeneSight from its largest commercial payer could add $40 million to its annual revenues and $0.36 in annual earnings per share in fiscal 2018.
GeneSight could prove to be a valuable addition to Myriad Genetics' precision medicine players, including Novartis (NVS), Becton Dickinson (BDX), and Roche Holdings (RHHBY).