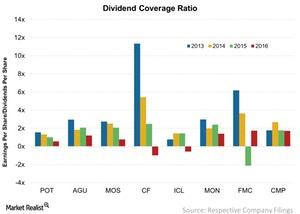 Filtering Down to Top 4 Agriculture Dividend Stocks in December
Filtering down
In the previous parts of this series, we looked at the dividend yield trends of eight agriculture companies. We saw that the yield trends of PotashCorp, CF Industries, Mosaic, and Israel Chemicals declined as a result of a cut in quarterly dividend distribution. In this concluding part, we'll filter down to the top four dividend stocks in this industry (XLB).
Article continues below advertisement
Declining earnings risk dividends
Usually, cutting dividends is not viewed favorably by the market. However, if most companies within the industry cut dividends, the negative impact on any particular company may be softened.
Companies cut dividends due to an expectation of a fall in future earnings. Most of the fertilizer companies experienced a decline in earnings in the recent quarter as a result of declining fundamentals within the global agriculture environment. Read our series PotashCorp's Analyst Conference on November 29: Key Takeaways to find out more.
Dividend safety
With declining earnings and a cut in dividends, selecting a dividend stock becomes even more challenging. However, an analysis of dividend safety can be used to filter down our top dividend stocks. Dividend coverage is one measure of dividend safety. Dividend coverage is calculated by taking net profit available to common shareholders over the dividend paid to common shareholders. While there is no right coverage ratio that's considered the best, usually mature companies with a stable dividend history have a coverage ratio between 1.7x and 2.5x.
In the above chart, most of the companies experienced a declining dividend coverage ratio over the past four fiscal years. Compass Minerals International (CMP) and FMC (FMC) had a dividend coverage ratio above 1.7x in fiscal 2016. Monsanto (MON) was next with a coverage ratio of 1.4x, followed by Agrium (AGU) with a coverage ratio of 1.2x. Monsanto has also reported its fiscal 2017 results with a coverage ratio of 2.4x.
Given the stability in dividends and a coverage ratio above 1.0x, we filtered down to these four stocks as the top picks for dividend stocks within the agriculture industry.