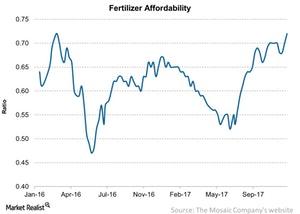 Are Fertilizers Getting Expensive?
By Adam Jones

Updated
Fertilizer affordability
So far this year, fertilizers have remained somewhat affordable, raising the expectations for companies such as PotashCorp (POT), Agrium (AGU), and CF Industries (CF). However, fertilizer affordability last week, which ended December 15, 2017, showed signs of weakness.
Weekly movement
In the above chart, we see that the Fertilizer Affordability Index for the week ended December 15, 2017, moved higher to 0.72x from 0.70x the previous week. The index is issued by Mosaic (MOS), which compares the prices of key fertilizers such as nitrogen, phosphorous, and potassium with the prices of key fertilizer-consuming crops such as corn, wheat, and soybeans.
Last week's upward momentum in the Fertilizer Affordability Index may indicate that fertilizers are getting somewhat expensive. Earlier in this series, we saw how the prices of some key fertilizers performed so far this year, with most of them at levels higher than the previous year.
The affordability index was indexed to one in 2005. Levels below one indicate that fertilizers are fairly affordable compared to the base year of 2005. Levels above one mean the opposite.
The index slowly rising to one could indicate that fertilizers may be getting expensive, which would affect affordability for farmers (XLB).
To learn more about the fertilizer industry, be sure to read our series Agricultural Fertilizer Industry: Your Comprehensive Overview.