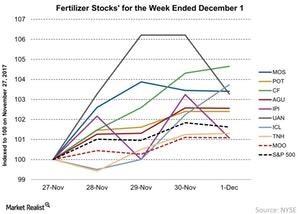 How Fertilizer Prices Moved Last Week
By Adam Jones

Updated
Sector performance
For the week ending December 1, the VanEck Vectors Agribusiness ETF (MOO) rose 1.1%, while the S&P 500 Index (SPY) rose 1.6%. Last week, all of the eight fertilizer stocks covered below ended in positive territory.
Article continues below advertisement
Weekly performance
Last week, CF Industries (CF) emerged as the top gainer with its stock rising ~4.7% during the week to $37.6, followed by Israel Chemicals (ICL), which rose by 3.7% to $4.2. The Mosaic Company (MOS) wasn't far behind with a weekly gain of 3.4%, rising to $24.3 per share, while CVR Partners (UAN) rose by  3.3% to $3.2.
Last week, Agrium (AGU) and PotashCorp (POT) also ended higher. Agrium rose 2.6% to $109.9, while PotashCorp rose 2.4% to $19.7 per share. Read our recent update on the PotashCorp-Agrium merger in PotashCorp-Agrium Revisited: Key Updates.
The remaining two stocks also ended last week in positive territory. Terra Nitrogen (TNH) rose 1.3% to $83.1, and Intrepid Potash (IPI) rose 1.1% to $3.7. Let's now look at how these stocks have performed YTD (year-to-date).
YTD performance
Intrepid Potash continued to lead other stocks with a YTD return of 79.8%. CF Industries returned 18%, which was higher than the S&P 500's 17.4%, but it underperformed the VanEck Vectors Agribusiness ETF, which returned 18.8% YTD.
Agrium returned 9.7%, PotashCorp returned 8.4%, and Israel Chemicals returned 2%, underperforming the benchmark indexes.
The remaining three stocks have returned losses so far this year with CVR Partners returning losses of 50.1%, Terra Nitrogen returning losses of 20.9%, and the Mosaic Company returning losses of 17.9%.
Series overview
In this weekly series, we will discuss the weekly price movements for fertilizers such as urea, DAP/MAP (diammonium/monoammonium phosphates), and potash. We will also discuss the movements in natural gas, which is key to nitrogen producers, and review the changes in fertilizer affordability.