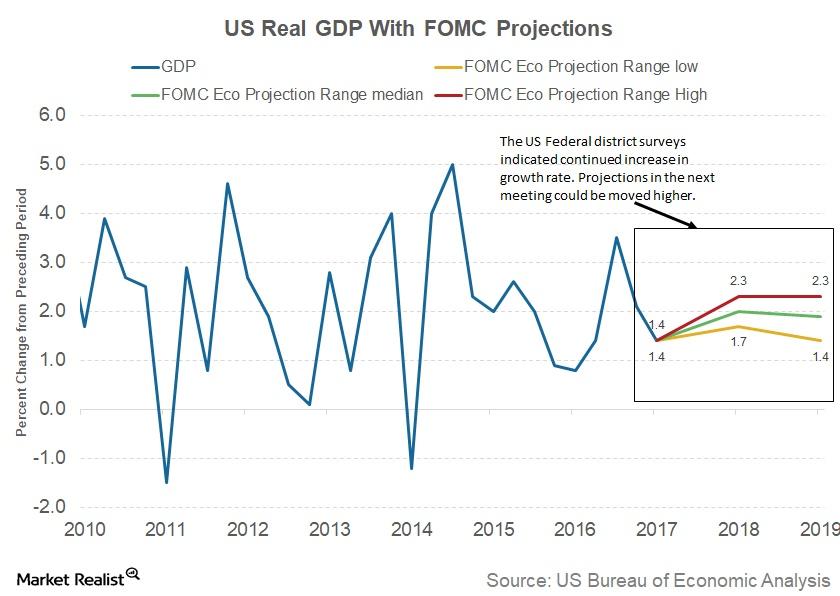 Why the Fed's Beige Book Is Relevant to Investors
By Ricky Cove

Dec. 4 2017, Updated 11:27 a.m. ET
The Fed's Beige Book
The Federal Reserve's Beige Book, also called the Summary of Commentary on Current Economic Conditions, covers the economic conditions for each of the Fed's 12 reporting districts by sector. The Beige Book is published eight times per year and is published two weeks before the Federal Open Market Committee (or FOMC) meeting. The next FOMC meeting is scheduled for December 12–13, 2017. The Beige Book is the primary source of data used by the FOMC to determine the next steps for monetary policy. The information in it gives investors in the bond (BND) and currency (UUP) markets an opportunity to estimate the future course of the Federal Reserve's policy.
Article continues below advertisement
How is the Beige Book prepared?
The Fed's Beige Book is prepared by the federal reserve banks of the 12 Fed districts. The process of preparing the Beige book begins six weeks before the next FOMC meeting. As part of the preparation process, every Federal Reserve bank gathers information on the current market conditions from their local banks and branch directors and conducts interviews and surveys with economists, market experts, and key businesses. The information from the 12 Fed districts is collated by a designated Federal Reserve bank on a rotation basis. The latest Fed Beige Book was prepared by the Federal Reserve Bank of St. Louis.
Series overview
Throughout this series, we'll analyze the latest Fed Beige Book released on November 29, 2017. We'll see if the Fed is likely to go ahead with a rate hike in its December meeting and how that decision could impact the fixed income (AGG), currency (USDU), and equity (SPY) sectors. Let's start by looking at the economic indicators in the November Beige Book.