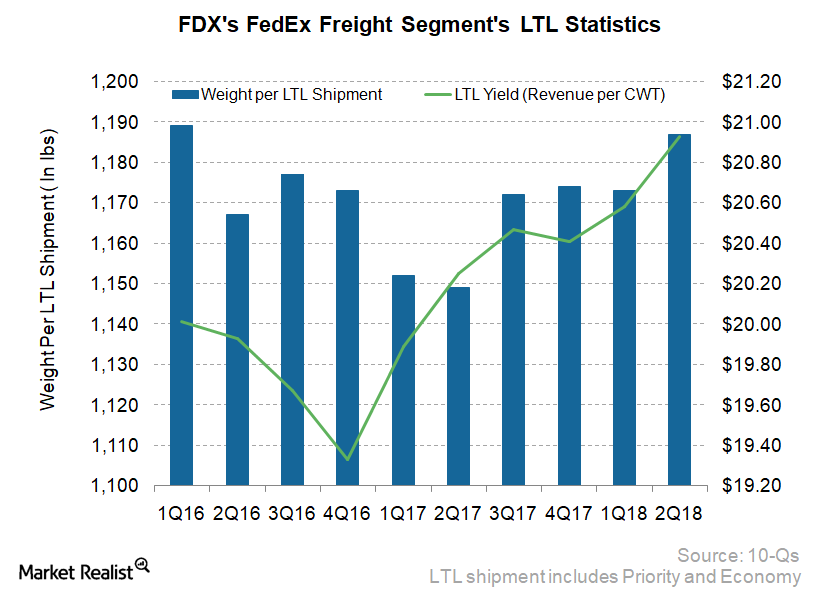 Why FedEx Freight's Revenues Grew in Fiscal 2Q18
By Samuel Prince

Dec. 25 2017, Updated 9:02 a.m. ET
FedEx Freight's revenues
Now let's take a look at FedEx (FDX) Freight's fiscal 2Q18 results. The vertical ranks third in terms of contribution to FDX's total revenues. Its revenues rose 10.3% to ~$1.8 billion in fiscal 2Q18 from ~$1.6 billion in the second quarter of fiscal 2017.
The LTL (less-than-truckload) business included in FedEx Freight has been doing well for the company. That can be corroborated by the fact that LTL yield measured in revenue per CWT (centum weight, or hundredweight) has risen consistently over the last few quarters. In fact, the shipment weight measured in pounds has been growing in the last few quarters. Higher base rates along with the rise in fuel surcharge revenues boosted the Freight segment's revenues in fiscal 2Q18.
Article continues below advertisement
The segment's composite revenue per LTL shipment rose 6.7% to $248.30 in fiscal 2Q18, from $232.70 in fiscal 2Q17. The composite weight per LTL shipment rose 3.3%, whereas the average daily shipment growth rate was 4.3%. The LTL revenue per CWT rose 3.4% in the reported quarter. Excluding the impact of the fuel surcharge, revenue per LTL shipment grew 5%.
Management's insight
FedEx anticipates increased revenues in the Freight segment going forward. Implementation of disciplined pricing strategies along with investments should drive volume growth and improve base yield. FDX aims to modernize its technology in this division to improve revenue. Use of data-driven decision-making tools should improve FDX's service quality in the Freight division. The company has plans to increase its shipping rates by 4.9% in the FedEx Freight segment, to take effect on January 1, 2018.
FedEx Freight provides LTL services for all hauling lengths. FedEx Custom Critical revenues are included in this segment. Its Custom Critical service offers time-sensitive and critical shipment services in the United States.
ETFs and transportation
If you're interested in indirect exposure to US transportation and logistics stocks, you could consider investing in the First Trust Industrials/Producer Durables AlphaDEX ETF (FXR). Prominent airlines (JBLU), railroads (GWR), and trucking (JBHT) companies together make up ~24% of FXR's portfolio holdings.
Next, we'll look at FedEx's ability to grow its operating margins in fiscal 2Q18.