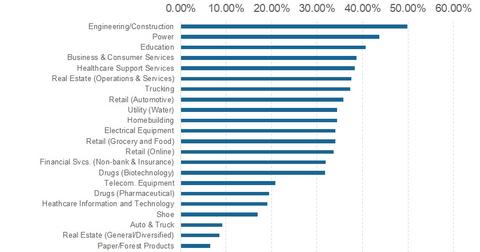 How Would Equity Markets React to the Proposed Tax Reform?
By Ricky Cove

Updated
Corporate tax cuts are the key focus
For stock market (SPY) investors, the possibility of a corporate tax cut puts a smile on their face. The proposed corporate tax cut from 35% to 20% could translate to higher retained profits for companies. How would corporates pass on the benefit? Will they increase their investment in production, increase wages, increase dividends, or increase share buybacks? In previous instances of such stimuli, corporate opinion swayed towards share buybacks. We need to remember that stockholders' vision is usually myopic. For a corporate board, increasing shareholder value is the primary interest. The following chart shows the effective tax paid by different industries. The industries in the higher tax bracket stand to benefit the most from tax cuts.
Article continues below advertisement
Repatriation window
The proposed US tax reform bill also includes a proposal to open a low tax window to repatriate foreign earnings to US companies. Companies have parked profits outside the US to avoid paying higher tax in the US. According to the proposed framework, a low tax of 8.75% on cash and a 3.5% tax on foreign earnings could result in cash flow of $250 million into the economy. It isn't certain how the companies (QQQ) would utilize the funds.
Stock markets' reaction
Usually, stock markets have a positive reaction to tax cuts. Since the US election in November 2016, investors have been hoping for tax reforms. Lower tax rates will likely be positive for companies in the higher tax bracket. Companies in the construction and education sector stand to benefit the most from tax cuts.
Analyzing the market's performance in the last five sessions, investors were moving from the technology and real estate sectors to the financials (XLF), telecom, and energy (XLE) sectors. There was nothing wrong with the tech (XLK) sector. The sector has increased, so investors are locking their gains and moving to sectors that will likely gain more from tax reforms.
We're close to historic tax reform. In general, tax cuts are positive for an economy in the short term. We'll need to assess how the economy responds to the changes to determine if the tax cuts turn out to be good or bad for the US economy.