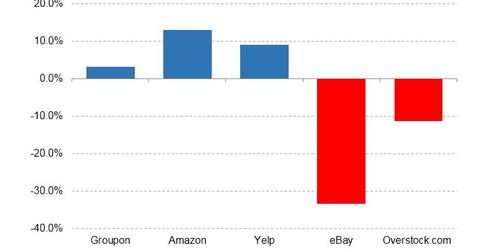 eBay's Balance Sheet after 3Q17
By Neha Gupta

Updated
eBay's cash holding shrank
eBay (EBAY) managed to expand its balance sheet in 3Q17, although its cash holding shrank in the quarter—perhaps a consequence of continued investment in product development and marketing. eBay's balance sheet shows it had a cash balance of a little over $6.0 billion in 3Q17, compared with a cash balance of nearly $9.0 billion at the end of 2Q17. This change shows that eBay's cash holding fell 33.3% sequentially in 3Q17.
At Amazon (AMZN), Alibaba (BABA), Yelp (YELP), and Groupon (GRPN), cash holdings expanded 13%, 8.1%, 9.1%, and 3.2%, sequentially and respectively, in 3Q17. Overstock.com, however, followed in eBay's footsteps and posted an 11.3% sequential fall in cash holdings in 3Q17.
Asset base expanded
Despite the dip in eBay's cash reserve in 3Q17, an increase in the company's long-term investments led to an expansion in its asset base and saw the company end the quarter with a stronger balance sheet than it began the year with. eBay had total assets of more than $25.9 billion at the end of 3Q17, compared with $23.8 billion at the beginning of 2017.
Shareholders' equity expanded
The company's debt shrank slightly between 3Q17 and 2Q17 but expanded compared to the level at the beginning of the year. Debt of $10 billion at the end of 3Q17 was down from debt of $11.5 billion at the end of 2Q17. The company began the year with slightly less than $9.0 billion of debt.
eBay's shareholders' equity expanded to $11.3 billion in 3Q17, compared to $10.5 billion in 4Q16.