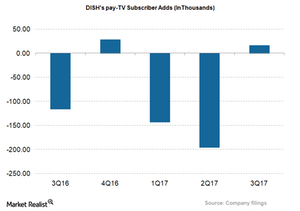 DISH Network's Strategies to Boost Pay-TV Customers
By Aaron Hemsworth

Updated
Rising subscriber losses
DISH Network (DISH) continues to lose pay-TV subscribers. It ended 3Q17 with 13.2 million pay-TV subscribers, a 3.2% fall YoY (year-over-year).
From the graph above, we can see the decline in pay-TV subscribers in the last five quarters.During the period, DISH continued to lose customers at a CAGR (compound annual growth rate) of 0.8%.
At the end of the first nine months of 2017, DISH lost about 339,000 pay-TV subscribers compared to 420,000 in the same period last year. Stiff competition from low-cost video streaming players Netflix (NFLX) and Amazon Prime Video (AMZN) has resulted in continuous subscriber losses.
Article continues below advertisement
AT&T's (T) OTT (over-the-top) services DirecTV Now and U-verse and Verizon's (VZ) FiOS TV growth have further increased competition in the pay-TV industry. Increased use of smartphones and the availability of high-speed Internet services have changed the viewing habits of customers who are increasingly preferring binge-watching on multiple devices.
Measures DISH is taking
In a bid to counter subscriber losses, DISH has taken different approaches for rural and urban customers. The company believes that rural customers are less vulnerable to bundling offers and other OTT services. The company has also implemented several cost initiatives to avoid passing the increased carriage costs to subscribers.
In order to retain its urban customers, DISH has launched its Hopper DVR (digital video recorder) service. The company continues to enhance the service with the 4K ultra HD (high-definition) experience supporting up to seven TVs. Its Sling service was introduced to target customers who prefer watching shows on the Internet through smart devices.
The company is also providing Flex Pack deals for subscribers looking for particular channels. To boost its commercial customers, the company has launched its set-back box, Evolve, and its Smartbox, which offers a complete TV solution for the hotel industry.
The company hopes these services will help retain subscribers going forward.