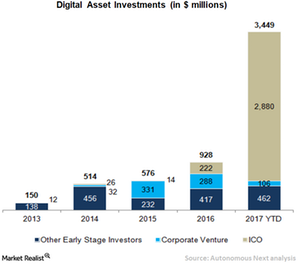 Why Digital Assets Cannot Be Ignored
By VanEck

Dec. 4 2017, Updated 2:38 p.m. ET
VanEck
BUTCHER: Digital assets have been in the news pretty much the whole of this year. Do you see them being in the news in 2018? And do you see any particular trends that interest you?
Article continues below advertisement
Digital Assets Cannot be Ignored
VAN ECK: I think this goes to the heart of who VanEck is. VanEck tends to look at what is going on in the world, historical trends, technology, what have you. We then ask ourselves: "What are the opportunities in the financial markets, or the risks?" It is how we got into gold back in the 1970s: we saw the inflationary trend that was not really visible. With digital assets, you have to look at it because it's such a potentially revolutionary technology. As "peer-to-peer databases", distributed ledgers could really revolutionize how many things are currently being done. Are there many investment implications or opportunities? I would say that only in higher risk portfolios should you take a small position in digital assets. Digital assets are not a mainstream asset class at this time by any means. But I do not think it should be dismissed, because if the technology works, then there is upside. The biggest issue that we focus on, or I focus on, is governance. That is, can a crowd-governed database work, as opposed to one run by a private company like Microsoft, or Salesforce, or someone like that? Linux is an example of a crowd-sourced software solution that has worked. (Read August 14 blog post for more on digital assets: 3Q'17 Investment Outlook: Emerging Markets and Digital Asset Opportunities.)
Market Realist
Digital assets have seen rising interest from institutional investors
Investing in digital assets has become a new trend in the past couple of years. According to Autonomous Next, a financial research company, the number of funds investing in digital assets like bitcoin and other projects based on the blockchain technology has grown rapidly to 124. This year alone, more than 90 funds (SPY) (IVV) focused on digital assets like bitcoin have been launched.
Article continues below advertisement
 AUMs of crypto funds
While some market veterans remained skeptical about digital assets, others are quietly moving in. Autonomous Next estimates that total assets managed by crypto funds are presently at $2.3 billion. Out of the total digital asset focused funds, around 37% use venture capitalist type strategies. Such funds had AUMs (assets under management) of ~$1.1 billion. About 32% focused on trading digital assets and are managing assets worth $700 million. 10% of these funds use machine learning, data science, or statistical arbitrage on digital currencies. Such funds had AUMs of ~$100 million.
Huge returns
Rising interest and increased allocation from money managers have helped boost returns from digital assets. Bitcoin has returned 593% year-to-date and is trading at $7,218, while another digital currency, ethereum, surged 3,150% during the same period. Ethereum is currently trading at $328.9 per coin.
Though digital assets have a long way to go before they integrate with the broader economy (VTI) (EFA) (VOO), they have the potential to emerge as a major asset class and thus can't be ignored.