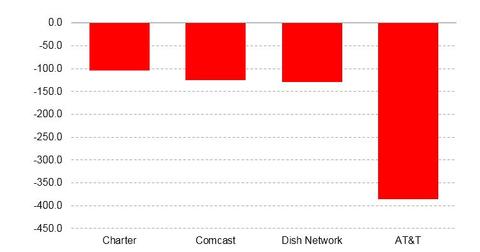 What Could Be Delaying Verizon's Internet TV?
By Ruchi Gupta

Updated
Verizon internet TV could launch in spring 2018
Verizon's (VZ) long-awaited online television service is expected to launch in spring of 2018, according to Bloomberg report. The launch of Verizon's new over-the-top (or OTT) video service has been delayed at least twice, and even the said spring 2018 launch is only tentative.
Given that Internet TV is a crowded field, the delay could be that Verizon is taking its time to come up with a service that could compete effectively with rivals that already have a head start in the online TV market.
Expanding NFL deal
Discussions with content providers for programming are believed to be a factor in the delayed launch of Verizon's online video service. The company was reported as seeking to extend its contract with the NFL so it could digitally broadcast NFL games to a broad range of devices, including phones, tablets, and computers. The earlier contract that Verizon had with the NFL restricted it to only showing games on devices with display screens no larger than seven inches.
Need to select programming menu carefully
Netflix (NFLX) and Amazon (AMZN), two leading online TV providers, are investing in the production of their own original shows and movies, and this is pressuring new entrants such as Verizon to carefully select their programming menu to stay competitive.
Verizon's plan to expand in the online TV market is viewed as a response to weakness in the traditional pay-TV market. In 3Q17, Verizon lost 18,000 pay-TV customers, and the company blamed the loss on cord-cutting – the trend where households are abandoning fat cable bundles for slim video services rendered over the internet. As we can see from the chart above, Verizon's fellow pay-TV providers AT&T (T), Comcast (CMCSA), and Charter (CHTR) also lost pay-TV subscribers in 3Q17.