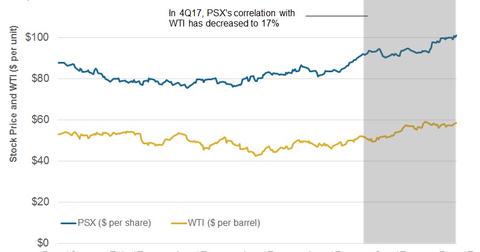 Correlation of Phillips 66 Stock with WTI
By Maitali Ramkumar

Jan. 4 2018, Updated 12:30 p.m. ET
Series overview
In this series, we have assessed Phillips 66's (PSX) stock performance, moving averages, and 98-day price forecast based on its implied volatility. We also looked at its analyst ratings, dividend expectation for 1Q18, valuations, short interest changes, and institutional holdings.
We studied Phillips 66's debt and cash flow trend. We also reviewed PSX's segmental earnings, capex, and growth plans. In this part, we'll explore whether there is a rise in the correlation between Phillips 66's stock price and crude oil prices in the current quarter.
Article continues below advertisement
Correlation coefficient
The correlation coefficient estimates the relationship between two variables. A value between 0 and 1 means a positive correlation, a value of 1 indicates a perfect correlation, and a value between -1 and 0 indicates a negative correlation.
We have considered the price history of PSX and WTI (West Texas Intermediate) over the past 12 months and three months.
Correlation of Phillips 66 stock with WTI
The correlation coefficient of Phillips 66 versus WTI stood at 25.0% in the past one-year period. The correlation coefficient for PSX and oil prices shows that Phillips 66's stock price moves in line with WTI prices only to a certain degree. However, this correlation coefficient has decreased to 17.0% in 4Q17, indicating a weakening of the correlation.
Correlation analysis of peers
This condition is also the same for PSX's peers, who have seen a fall in their correlation levels in 4Q17. Marathon Petroleum (MPC), HollyFrontier (HFC), PBF Energy (PBF), and Andeavor (ANDV) have seen a fall in their correlation by 4.0%, 9.0%, 5.0%, and 6.0%, respectively, in 4Q17.
MPC, HFC, PBF, and ANDV's correlation with WTI stood at 16.0%, 10.0%, 9.0%, and 3.0%, respectively, in 4Q17.