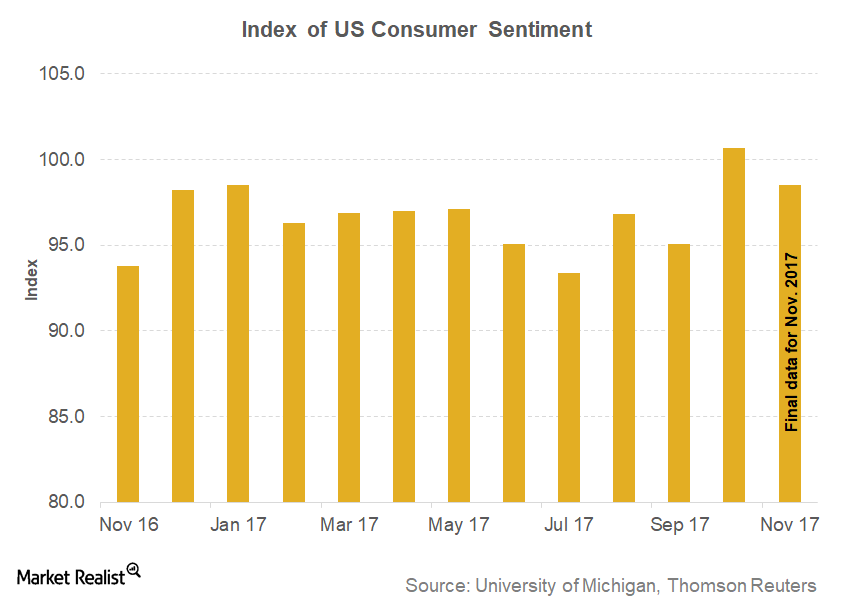 Were Consumer Sentiments Positive for Autos?
By Jitendra Parashar

Dec. 4 2017, Updated 7:33 a.m. ET
Consumer sentiment in November
According to the latest data released on November 22, the US Consumer Sentiment Index was at 98.5 in November 2017. It was much higher compared to consumer sentiment data of 93.8 in November 2016. In October 2017, the index also rose significantly to 100.7—up from 87.2 in the same month in 2016, which showed optimism.
US Consumer Sentiment Index data are reported on a monthly basis. The data are compiled by Thomson Reuters and the University of Michigan. The survey consists of at least 500 telephone interviews with a cross-section of consumers in the US.
Investors should be aware of recent trends in consumer sentiment because it reflects consumers' views towards the country's economic conditions.
Article continues below advertisement
Was it positive for autos?
The existing trend in the US Consumer Sentiment Index can be seen in the above chart. Currently, the index data reflect a strongly positive trend. The data are near the highest level since January 2004. Interestingly, the index fell to 93.4 in July 2017 after posting a high of 98.5 in January. However, the data have recovered in recent months.
When the US Consumer Sentiment Index is high, it's positive for auto sales' future. It keeps auto investors' hopes alive that auto sales could rise in the future.
In 2016, major automakers (FXD) including General Motors (GM), Ford (F), Toyota (TM), and Fiat Chrysler (FCAU) benefited from a positive trend in US auto sales. In 2017, US truck and utility vehicle sales have increased on a year-over-year basis.
Next, we'll take a look at recent industrial production data.