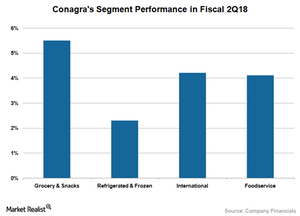 How Conagra's Segments Performed in 2Q18
By Amit Singh

Updated
Grocery and snacks
Conagra Brands' (CAG) sales improved across all of its segments during fiscal 2Q18, thanks to innovative products, favorable currency rates, and an improved mix and pricing. The company's grocery and snack net sales grew 5.5% to $0.90 billion in fiscal 2Q18, driven by strong sales of recently acquired BIGS, Frontera, Duke's, and Angie's BOOMCHICKAPOP brands, which added 300 basis points to its sales growth. Organic sales improved more than 2%, driven by higher volumes owing to customers' inventory buildup due to this year's hurricanes. Consumer takeaway trends also improved across several brands. The segment's sales are expected to take a hit during the third quarter due to the absence of hurricane-related sales.
Article continues below advertisement
Refrigerated and frozen
Sales in the company's refrigerated and frozen segment continued to grow in fiscal 2Q18. Sales improved 2.3% to $0.76 billion, while organic sales grew 2.0%. Healthy Choice, Marie Callender's, and Banquet products drove the company's organic sales. Reddi-Wip and newly acquired Frontera products in the frozen category further supported its top line.
Volumes grew 4.0% during the reported quarter. However, increased investments to boost distribution, consumer trials, and shelf presence impacted the company's price and mix by 2.0%.
International
The company's international sales rose 4.2% to $0.22 billion, driven by favorable currency rates, which added 4% to the segment's sales growth rate. However, organic sales remained flat as benefits from an improved mix and prices were offset by lower volumes due to the discontinuation of underperforming brands and increased promotions.
Foodservice
The company's foodservice sales rose 4.1% to $0.30 billion, driven by improved pricing and a favorable mix and partially offset by lower volumes due to the planned divestiture of non-core brands.