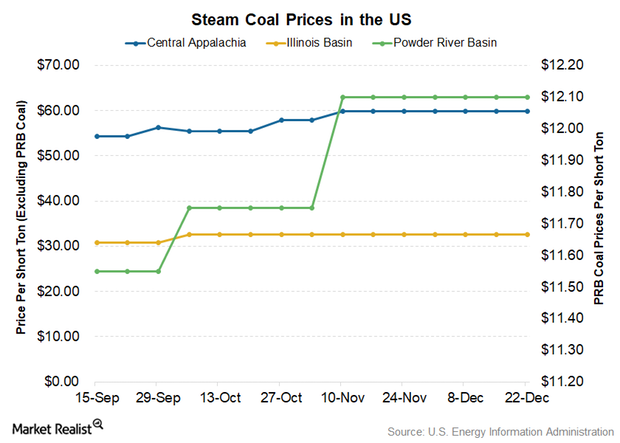 Coal Spot Prices Remain Steady for the Second Month
By Alexis Tate

Nov. 20 2020, Updated 4:06 p.m. ET
Coal mining regions
The PRB (Powder River Basin) region is in northern Wyoming and southern Montana. The region's mines are on the surface, which makes coal mining easier and less expensive. The mines contain sub-bituminous coal.
PRB mines produce almost 40% of the total coal mined in the US, which makes it the nation's biggest coal producer. Major players in the PRB region are Cloud Peak Energy (CLD) and Westmoreland Coal (WLB).
The Illinois Basin produces bituminous coal, which is high in sulfur content. The mines are spread across Illinois, western Kentucky, and southwest Indiana. Arch Coal (ARCH) and Alliance Resource Partners (ARLP) are some of the coal miners (KOL) that operate in the Illinois Basin region.
Unlike surface mines in the PRB, the mines in the Appalachian region are deep. It's challenging to mine coal from deeper seams, which makes the process more expensive.
As a result, many coal miners moved to other lower cost coal mining regions. CONSOL Energy is one coal company that still operate in this region.
Article continues below advertisement
Weekly coal spot prices
The coal spot prices in all of the regions have been constant since the week of November 10. On December 18–22, the PRB and Illinois Basin coal prices remained at $12.10 per short ton and $32.60 per short ton, respectively. The Central Appalachian coal price was $59.85 per short ton during the same period.
Visit Market Realist's Coal page for recent updates.