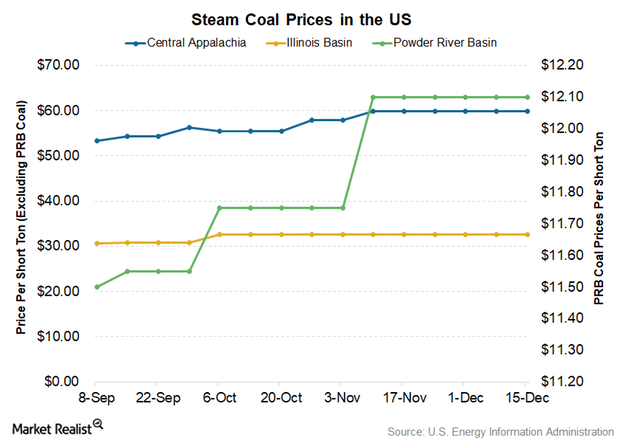 Coal Prices Stay Put in Winter 2017
PRB coal prices
For the week ended December 15, Powder River Basin (or PRB) coal prices came in at $12.10 per short ton. PRB coal prices have remained at the same rate since November 10.
The PRB region is spread across the northern part of Wyoming and southern part of Montana. PRB produces sub-bituminous coal, which is mined from its surface mines. Since mines are near the surface, the cost of coal mining is meager.
Around 40% of the total coal in the United States is produced from PRB mines. The region is the country's largest coal producer.
Cloud Peak Energy (CLD) and Westmoreland Coal (WLB) are significant players in this region.
Article continues below advertisement
Coal prices: Illinois Basin
The price of ILB (Illinois Basin) coal hasn't fluctuated since October's first week. When the market closed on December 15, ILB coal prices remained at $32.60 per short ton.
Illinois Basin coal mines are located in Illinois, Western Kentucky, and southwest Indiana. The ILB coal is bituminous and has high sulfur content.
Coal (KOL) companies Alliance Resource Partners (ARLP) and Peabody Energy (BTU) maintain coal reserves in this region.
The Appalachian region
Similar to PRB coal prices, Appalachian coal prices haven't seen any price shift since the week of November 10.
For the week ended December 15, Central Appalachian coal prices settled at $59.85 per short ton.
In the Appalachian region, coal seams are deeper—unlike the PRB surface mines. Coal mining from deeper mines costs more. Consequently, many coal companies have shifted their operations to other lower-cost coal-producing regions. Nevertheless, CONSOL Energy Inc. owns coal mines in the Appalachian region.
Please drop by Market Realist's Coal page for recent updates.