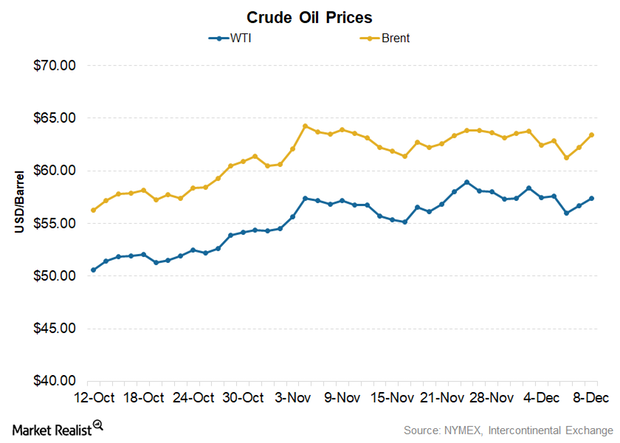 Are Coal Miners Impacted by a Fall in Crude Oil Prices?
By Alexis Tate

Dec. 14 2017, Updated 12:54 p.m. ET
Crude oil prices
On December 8, 2017, the price of WTI (West Texas Intermediate) crude oil was $57.36 per barrel. This price was nearly 2.0% below the price of $58.36 per barrel when the market closed on December 1.
On December 8, 2017, the Brent crude oil prices were marginally down 0.5% to $63.40 per barrel from $63.73 per barrel on December 1, 2017. Crude oil's price volatility could influence oil producers such as Marathon Oil (MRO) and Energen (EGO).
In its latest Short-Term Energy Outlook (or STEO) report, the EIA forecast Brent spot prices to average $57.00 per barrel in 2018. The EIA forecast the price of WTI crude oil to average $53.00 per barrel.
Article continues below advertisement
Is crude oil price a powerful driver for coal producers?
Coal-producing (KOL) companies such as Alliance Resource Partners (ARLP) and Arch Coal (ARCH) are influenced by the volatility of crude oil prices in numerous ways. However, coal and crude oil aren't directly associated with each other.
Earlier in this series, we saw that natural gas storage and price play a vital role in the variations in coal prices. Because crude oil is a prime factor in the natural gas production process, the commodity's price is an indirect driver for the coal industry.
Crude oil producers regulate the amount of production depending on prices. If prices are weak, they reduce the production volume, which frees up rail cars for coal transportation. Coal producers engage these railcars in shipping coal, helping them reduce their operating costs. As a result, crude oil is an inherent agent in the coal mining process.
Despite performing a notable role in the natural gas production and coal mining process, crude oil isn't used in the power generation processes employed in the US. As a result, its effect on utilities caused by crude oil price shifts is insignificant.
In the next part, we'll examine coal inventory.