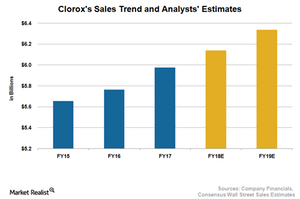 Why Clorox's Top Line Could Continue to Impress in 2018
Top-line trend
Clorox (CLX) outperformed most of its peers with its sales performance in 2017. It registered healthy volumes growth in the United States (SPY), which differentiates it from its peers. Procter & Gamble (PG), Kimberly-Clark (KMB), and Colgate-Palmolive (CL) struggled on the home turf amid moderating category growth.
Clorox's focus on innovation supported by efficient marketing has helped it grow its volumes despite the challenges. Its ability to increase pricing endorsed its top-line growth rate.
Article continues below advertisement
Outlook
Clorox expects its top line to increase 1%–3% in fiscal 2018, driven by innovation-led new products, which are expected to add 3% to its sales. Higher pricing in international markets is further projected to drive its top line. However, the divestiture of its Aplicare business is expected to remain a drag on its top line and have a negative impact of 1%.
Analysts estimate Clorox's top line to improve 2.7% in fiscal 2018. Sales are projected to grow 3.2% in fiscal 2019. Clorox commands a superior market share across most of its product categories, thanks to its strong portfolio of market-leading brands. Its innovation-led new products continue to resonate well with consumers and are generating a healthy sales growth.
Clorox's continued investments in demand-building initiatives such as digital marketing and e-commerce initiatives are anticipated to drive its top line higher.