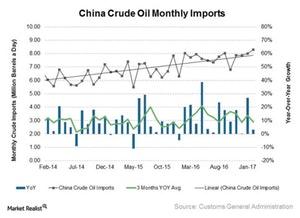 China's Crude Oil Imports Are at Record Levels
By Sue Goodridge

Updated
China's import and export data
China's total exports rose 12.3% YoY (year-over-year) in November 2017, which was up from a rise of 6.8% in October. In November 2017, China's imports rose 17.7% YoY, which was higher than October's rise of 17.2% YoY. November's imports and exports were higher than expected.
November's crude oil imports
In November, China's crude imports rose to the second-highest level on record. In November, China's crude oil imports were 37.04 million tons—up from 31.03 million tons in the previous month. On a daily basis, China imported 9.06 MMbpd (million barrels per day)—compared to 7.3 MMbpd in October. Crude imports are 14.5% higher year-over-year.
First 11 months
In the first 11 months of 2017, China imported 8.47 MMbpd of crude oil. It's 12% higher than the same period last year.
Will it be higher in 2018?
In 2015, China gave the green light to independent refineries, also known as "tea-pot" refineries, to import crude oil. During this period, the country slowly increased the limits on tea-pot refineries' imports. Last month, China announced that the quota for independent refineries' crude oil imports will be increased to 142 million tons in 2018—55% higher than 2017. The volume is equivalent to 37% of the country's crude oil imports in 2016.
China's crude imports
Most of China's crude imports are carried out through crude oil tankers. It's one of the largest importers in the world. Around 60% of China's oil consumption comes through imports. Typically, higher crude oil imports mean higher crude oil tanker demand. Higher crude tanker demand translates to higher rates for tankers.
Higher tanker rates benefit crude tanker companies including Euronav (EURN), Nordic American Tankers (NAT), Gener8 Maritime Partners (GNRT), DHT Holdings (DHT), Tsakos Energy Navigation (TNP), and Teekay Tankers (TNK).