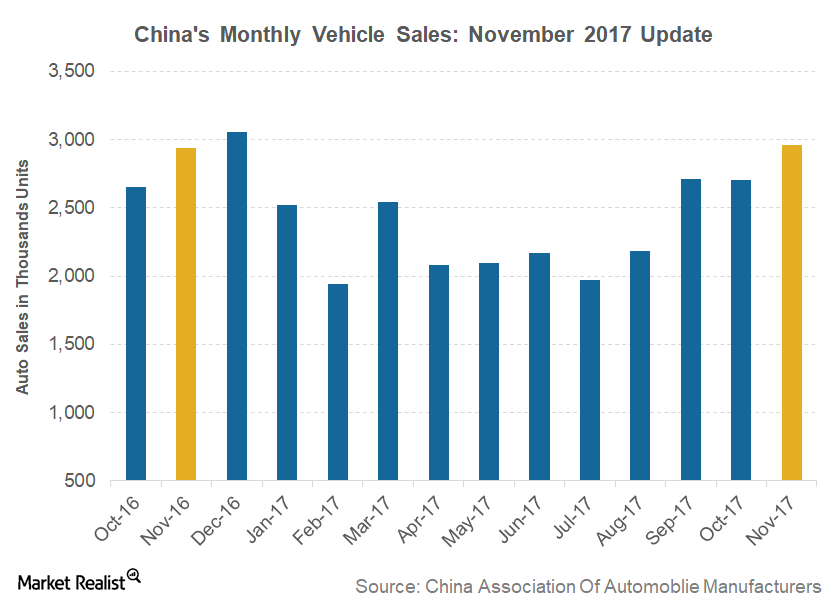 How Did China and US Vehicle Sales Look in November?
November 2017 China auto sales
According to the data compiled by the China Association of Automobile Manufacturers, Chinese market auto sales (IYK) stood at ~3.0 million vehicle units in November 2017. This was about 0.7% higher than the Chinese auto sales of 2.4 million vehicle units sold in November 2016. In October 2017, China's auto sales rose 2.0% YoY (year-over-year) to 2.7 units. November was the sixth month in a row that Chinese vehicle sales witnessed positive YoY growth.
Article continues below advertisement
US auto sales
In contrast, total US auto sales in November 2017 were up by about 1.3% YoY to 1.4 million vehicle units, according to the data compiled by Autodata. In November 2017, China's commercial vehicle sales continued to grow positively, while both passenger car sales in the country remained nearly flat. During the month, Chinese passenger car sales fell marginally by 0.03% YoY to 2.6 million units. At the same time, commercial vehicle sales in the country rose 5.6% YoY to 0.37 million units.
On a YTD (year-to-date) basis, China's total vehicle sales have gone up by 3.6% YoY to 25.8 million units, whereas US auto sales have fallen ~1.5% YoY to 15.6 million vehicles. US truck and utility vehicle sales have gone up notably in the last couple of years as compared to the sales of small cars in the country.
China is the largest single auto market in the world. In the last few years, mainstream automakers such as Ford (F), Toyota (TM), General Motors (GM), and Fiat Chrysler Automobiles (FCAU) have increased their focus on China. Existing strength in the Chinese auto market and its immense future growth potential could be two key reasons why global automakers are placing high bets on China.
Series overview
In this series, we'll explore key automakers' November 2017 Chinese and European sales figures. We'll also look at what these sales figures could mean for these auto companies' future growth. In the next part, we'll begin by looking at Ford's China sales data for November 2017.