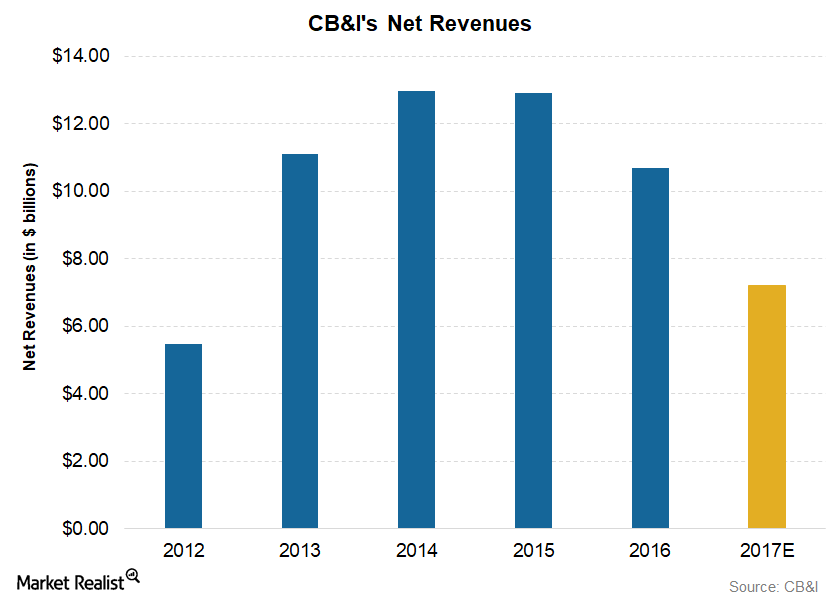 Chicago Bridge & Iron's Revenue and Long-Term Contracts
By Alexis Tate

Dec. 7 2017, Updated 2:47 p.m. ET
CBI's revenue trend
As we saw in the previous part of this series, Chicago Bridge & Iron Company's (CBI) revenue is primarily driven by its long-term contracts. In this part of the series, we'll look at its financial performance.

In 2016, Chicago Bridge & Iron reported total revenue of $10.7 billion, which was 17.4% lower than $12.9 billion in 2015. The fall in 2016 revenue was primarily due to delays in the awards of certain large project prospects. Apart from that, 2015 revenues included $2.1 billion of revenue attributable to CBI's nuclear power construction group, which was sold on December 31, 2015. The decline was partly offset by increased activity for the EC (Engineering & Construction) group's LNG (liquified natural gas) export facility projects.
About 20% of the 2017 net revenues was represented by the Capital Services group, which was sold in June 2017. The total revenue in 2017 is expected to fall to $7.2 billion as a result of that sale.
Article continues below advertisement
Segment-wise revenue
Chicago Bridge & Iron's EC group reported $6.1 billion in revenue in fiscal 2016, which was 20.7% less than $7.7 billion in fiscal 2015, which included nearly $2.1 billion of revenue from the former nuclear operations business.
The revenues benefited from the increase in activity in LNG export facility projects in the United States and many other projects in the United States and Asia Pacific regions. It was partially offset by the reduction in activity on the massive cost-reimbursable LNG mechanical erection project in the Asia Pacific region and a refinery project in Colombia.
Revenue from the Fabrication Services group was $2.1 billion in 2016, which was 13.6% less than 2015. The collapse in revenue was mainly due to the winding down of multiple storage tank projects in North America, South America, and the Asia Pacific region, as well as lower engineered products activity. The decline was partially balanced out by a rise in fabrication activity.
CBI's revenue from the Technology group was $284.4 million in 2016, a fall of 28.7% from 2015. The decline in 2016 was due to a lower catalyst volume and the timing of new awards. The Technology group was discontinued in 3Q17.
The company's revenue fluctuates due to a number of factors, including a fall in energy prices and the cyclical nature of the individual markets (XLE) in which CBI's customers, including Chevron (CVX), Duke Energy (DUK), and BHP, operate.
In the next part, let's take a look at CBI's cost performance.