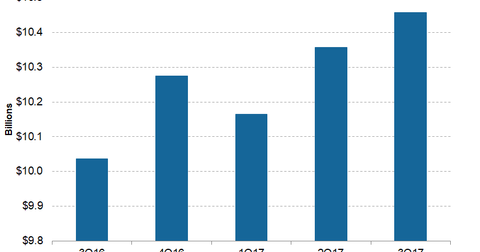 Why Charter's Revenue Continued to Rise in 3Q17
By Ambrish Shah

Updated
Charter's revenue trend
In the previous part of this series, we looked at Charter Communications' (CHTR) earnings and how they fell YoY (year-over-year) in 3Q17 on a pro forma basis. Now let's take a look at Charter's performance in terms of its top line over the past few quarters. Its revenue rose ~4.2% YoY on a pro forma basis to reach $10.46 billion in 3Q17 but came in below Wall Street analysts' consensus estimate of $10.49 billion. The increase in total revenue was mainly due to strong growth in the residential and commercial components as it integrates the Time Warner Cable and Bright House Networks acquisitions.
Charter's revenue components in 3Q17
In 3Q17, revenue growth for Charter's residential services was mainly driven by solid growth in its Internet division. Residential revenue rose ~4.4% YoY to ~$8.4 billion in 3Q17. Revenue for the residential services Internet component rose ~10.9% YoY to ~$3.6 billion in 3Q17, driven in part by customer gains in the division.
The commercial component also continued to drive Charter's consolidated revenue growth in 3Q17. This revenue stream rose ~7.9% YoY to ~$1.5 billion in 3Q17. Both the enterprise and small and medium business components contributed to this growth.
However, the company's advertising division was the laggard for the quarter, with revenue falling ~11.2% YoY to $373 million. A weak political advertising environment was the main reason for these disappointing advertising sales. According to the company, if advertising sales were stripped from the top-line computation, its total revenue would have risen ~4.9% YoY in 3Q17.
In comparison, Comcast's (CMCSA) revenue fell ~1.6% YoY to $21 billion in 3Q17. Dish Network's (DISH) revenue fell ~5% YoY to 3.6 billion in 3Q17. However, Verizon's (VZ) wireline segment revenues rose ~1.1% YoY to $7.7 billion in 3Q17.
In the next part of this series, we'll look at Charter's adjusted EBITDA (earnings before interest, tax, depreciation, and amortization).