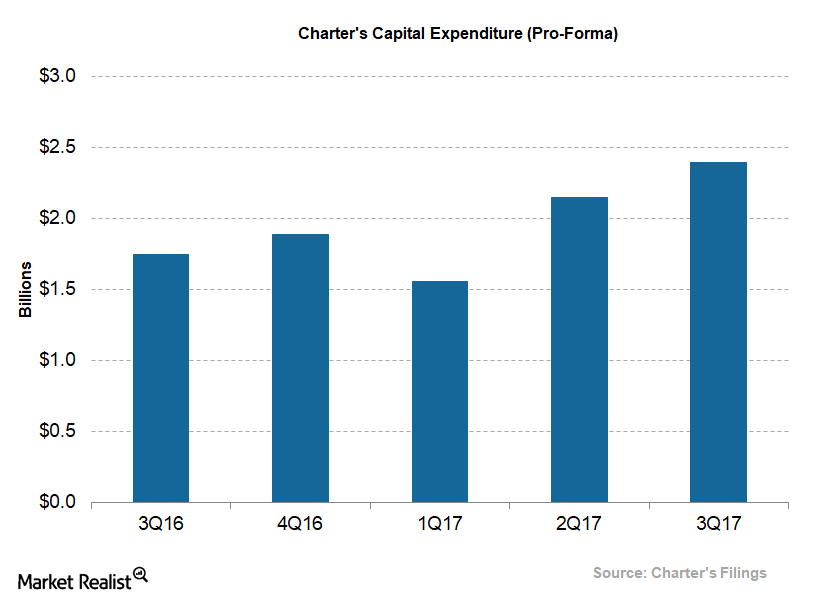 Charter's 2017 Capital Expenditure Budget: Must-Knows
By Ambrish Shah

Dec. 4 2017, Updated 10:33 a.m. ET
Charter's capital expenditure
Charter Communications (CHTR) is continuously investing in capex (capital expenditure) to improve its network. In 3Q17, it has spent $2.39 billion on capex, including $125 million on transition-related expenses. However, the telecom (telecommunications) company has spent less than $1.8 billion on capex in 3Q16. According to the company, this growth is due to higher spending on CPE (customer-premises equipment), scalable infrastructure, and support. The higher spending on CPE is driven by the launch of spectrum pricing and packaging in legacy Time Warner Cable and Bright House markets.
Article continues below advertisement
Charter's procurement of Time Warner Cable and Bright House have added a significant scale to its business. However, Charter's management has forewarned that upgrading the Bright House and Time Warner Cable systems to all digital will take a few years. Additionally, the integration of newly acquired and legacy systems will take a few years. The integration will require significant capital spending as well as higher operating costs.
Expected capex in 2017
Charter's management hasn't provided any capex guidance for 2017. However, management anticipates that capex will ramp up in the rest of 2017 since it restarted its all-digital projects in the remaining Bright House as well as Time Warner Cable markets that are not yet all digital. Management anticipates that most of this activity will still take place in 2018.
In 2017, Frontier (FTR) anticipates capex to be $1.15 billion–$1.2 billion. CenturyLink (CTL) and Windstream (WIN) are expected to spend ~$2.6 billion and ~$0.84 billion, respectively, on capex in 2017. However, AT&T (T) and Verizon (VZ), the integrated US telecom (telecommunications) companies, anticipate to spend ~$22 billion and ~$17.5 billion, respectively, on capex during the same period.
In 3Q17, Charter reported free cash flow of $0.6 billion compared to $1 billion in the year-ago period.