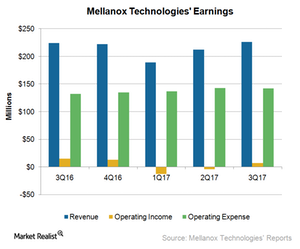 Why the Cavium Deal Is Important for Marvell's Shareholders
By Puja Tayal

Dec. 15 2017, Updated 10:33 a.m. ET
Cavium deal important for Marvell's shareholders 
The Cavium (CAVM) acquisition could lead to several synergies and boost long-term growth for Marvell Technology (MRVL). This acquisition is very important for Marvell (MRVL) as it shows the company's turnaround from a potential acquisition target to an acquirer.
Two years ago, Marvell was undergoing a period of instability as its founders were probed over an accounting scandal. Although the founders were found not guilty of any fraudulent activity, their management style was determined to be putting excessive pressure on the sales and finance teams to meet revenue targets.
Article continues below advertisement
Activist investor Starboard Value Fund acquired a 7% stake in Marvell and pushed for reform. This push saw Marvell's management replaced by a new management team led by Maxim Integrated's (MXIM) former sales head, Matthew Murphy. Rumors suggested that Starboard Value Fund would improve the company's financials and sell it off to potential acquirers.
However, the new management team not only restructured Marvell and brought it back to profit but also made it an acquirer. Now, Starboard Value Fund is looking to create another success story as Marvell.
Mellanox—the next Marvell
In November 2017, Starboard Value Fund acquired a 10.7% stake in the Israel-based Mellanox Technologies to influence the company's strategy.
Mellanox Technologies supplies high-speed computing technologies, InfiniBand systems, and ethernet products to large hyperscale customers. Over the past four years, the company has increased its revenue from $500 million in 2012 to $857.5 million in 2016 but reduced its operating profit from $118 million to $31 million because its operating expenses rose from just under $200 million to $456 million.
Starboard Value Fund believes Mellanox can improve its operating efficiency by controlling its research and development expenses. In a filing, the fund urged Mellanox to improve its margins and explore a potential sale to increase value for shareholders. However, Mellanox is hostile to any acquisition, as it recently rejected a deal from Marvell.
All of this happened after a Benchmark Capital analyst stated that Mellanox is a "ripe acquisition target for many companies" and listed Marvell as a potential buyer. Intel (INTC) could be another potential buyer for Mellanox. However, Starboard Value Fund's actions show that it wants Mellanox to become part of Marvell and Cavium. It would come as no surprise if Marvell announces an acquisition of Mellanox in the near future.
Next, we'll see how the Marvell-Cavium deal could impact other IoT (Internet-of-Things) acquisitions.