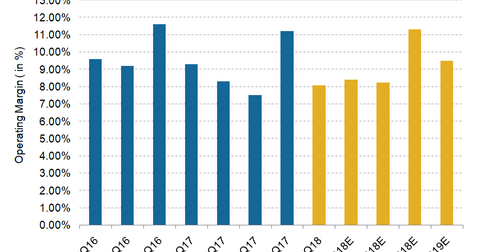 Can FedEx's Operating Margins Be Higher in Fiscal 2Q18?
By Samuel Prince

Updated
FedEx's operating margins in 2Q18
Analysts polled by Thomson Reuters estimate that FedEx (FDX) will report an operating margin of 8.4% in fiscal 2Q18. In the same quarter last year, its operating margins were 8.3%. That shows that analysts are projecting a very marginal improvement in margins for the upcoming quarter.
Usually, FedEx's operating margins are lower in the first three quarters of the year and much higher in the fourth quarter. FedEx's projected operating margins have been revised downward for fiscal 2018 to 9%, from 9.1% in fiscal 2017.
Estimated margins for FedEx's peers
On a quarterly basis, analysts expect FedEx's archrival United Parcel Service (UPS) to report lower operating margins in 4Q17. They estimate that UPS will report 12.8% in operating margins compared to 13.1% in 4Q16. United Parcel is a highly unionized courier company, unlike FedEx. That could give FedEx's management the required flexibility to curtail operating costs on the employee front. Analysts expect Old Dominion Freight Lines (ODFL) to report 16.8% in operating margins in 4Q17, which would be a 1.7% rise on a year-over-year basis.
For SAIA (SAIA), another LTL (less than truckload) (XTN) carrier, analysts anticipate an improvement of 110 basis points in 4Q17 to 6.8%. Kansas-headquartered YRC Worldwide (YRCW) is projected to report a 2.5% operating margin, which would be 1.2% higher on a year-over-year basis.
Can FedEx's margin rise in fiscal 2Q18?
LTL transport companies are expected to gain from higher prices. The top-line growth is expected to drive margins higher. However, it should be noted that revenues driven by e-commerce could negatively impact the operating margins for FedEx and UPS. That's due to the nature of ground deliveries where more stops push operating expenses higher.
FedEx is aiming at a 10% operating margin over the long term. Its Freight segment's margins are rising. A key metric in the LTL space, revenue-per-hundredweight, has also been rising for these operators in 2017. FedEx has invested heavily in technology, which should help it reach higher operating margins going forward.
However, there might still be hurricane-related costs in fiscal 2Q18, which could put a drag on its operating margins. The cyberattacks on TNT could also have forced certain customers to shift to other operators. That could affect TNT's operating margins negatively in fiscal 2Q18.
In the next part, we'll take a look at FedEx's capital expenditure for fiscal 2Q18.