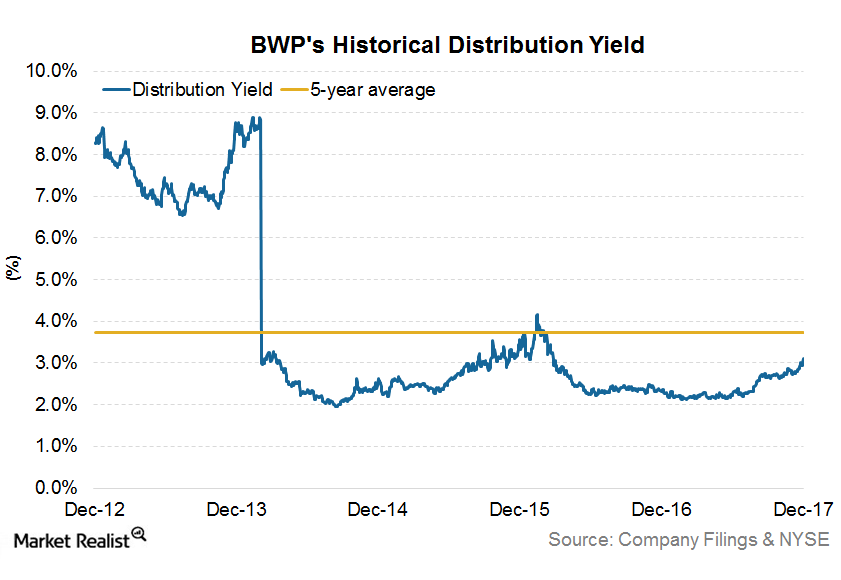 Can Boardwalk Pipeline Partners Generate Strong Returns?
Recent market performance
So far in this series, we've looked into the top six MLPs offering highest upside potential—Energy Transfer Partners (ETP), Archrock Partners (APLP), Hi-Crush Partners (HCLP), NuStar GP Holdings (NSH), Martin Midstream Partners (MMLP), and Alliance Resource Partners (ARLP).
In this article, we'll look into the upside potential of the MLP in seventh place—Boardwalk Pipeline Partners (BWP).
Boardwalk Pipeline Partners, a midstream MLP mainly involved in natural gas and NGLs (natural gas liquids) transportation, saw new 52-week lows in its most recent trading sessions. Overall, Boardwalk Pipeline Partners has lost 24.2% since the beginning of this year.
Among BWP's peers, TC PipeLines (TCP) and Spectra Energy Partners (SEP) have fallen 3.8% and 11.2%, respectively, while Williams Partners (WPZ) has risen 4.0%.
Article continues below advertisement
Valuation analysis
Boardwalk Pipeline Partners (BWP) was trading at a distribution yield of 3.1% on December 6, 2017. This is higher than the one-year average of 2.4%. The partnership's forward EV-to-EBITDA[1. enterprise value to earnings before interest, tax, depreciation, and amortization] multiple of 8.1x is significantly below the one-year and five-year averages of 9.0x and 10.4x, respectively.
BWP's current valuation could indicate a buying opportunity, considering the partnership's strong natural gas–focused expansion opportunities. These conditions are set against expectations of a strong rise in natural gas demand from power utilities, LDC (local distribution companies), and industrial customers.
At the same time, BWP's current valuation could indicate its flat distribution, high leverage, and declining throughput volume.
Analysts' recommendations
Boardwalk Pipeline Partners (BWP) ranks seventh in terms of upside potential among our select group of MLPs. BWP is currently trading below the low range ($14) of analysts' target price. The partnership's average target price of $17.70 implies an ~36% upside potential from its current price levels.
Goldman Sachs (GS) recently initiated coverage on BWP with a "sell" rating. Currently, 45.5% of analysts rate BWP as a "hold," 36.4% rate it as s "buy," and the remaining 18.2% rate it as a "sell."
In the next article, we'll look into the upside potential for Antero Midstream Partners (AM).