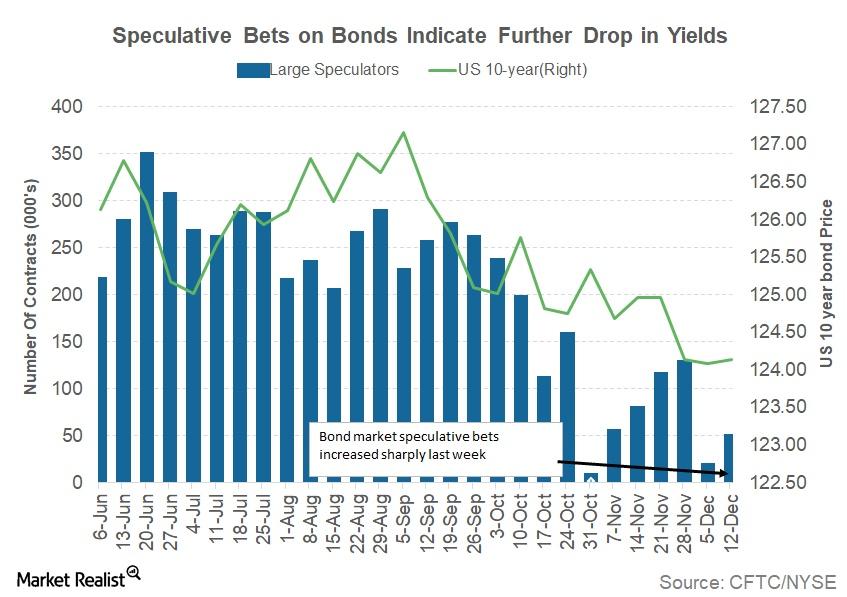 Why Bond Market Speculators Increased Bullish Positions Last Week
By Ricky Cove

Dec. 20 2017, Updated 11:24 a.m. ET
US bond markets improved after FOMC statement
The US bond (BND) markets responded to the FOMC rate hike and its statement in a positive manner. Bond prices have moved higher and the yields have moved lower as the FOMC statement was perceived to be dovish.
The Federal Reserve lowered its unemployment rate projection to 3.9% for 2018 and raised its GDP forecast. However, it left its inflation projections unchanged. The outgoing Federal Reserve chair, Janet Yellen, noted that inflation could remain low. This forecast led investors to doubt the Fed's dot plot projection of three interest rate hikes each in 2018 and 2019.
The other factor that could have dissuaded investors from betting on higher yields was the dissent from two Federal Reserve members regarding interest rates increases at this time.
Article continues below advertisement
Bond market performance and speculator positions
For the week ended December 15, the ten-year yield (IEF) decreased to 2.35%. The two-year yield (SHY) closed at 1.84% (up 4 basis points), and the 30-year yield (TLT) closed at 2.68% (down 8 basis points) in the previous week. The uneven changes in yields across the yield curve resulted in a further flattening of the yield curve, a concerning sign for the economy.
According to the latest Commitment of Traders report, which was released on December 15 by the Chicago Futures Trading Commission, speculators' long positions increased sharply from 14,345 contracts to 44,741 contracts last week. This data was current through Tuesday, December 5—before the FOMC statement. These long positions could have increased further in the last three days of the trading week.
The week ahead for the bond markets
Bond markets (AGG) could react to the personal consumption expenditure (or PCE) inflation data this week. Last week's inflation reports were not encouraging, and the PCE index data could follow this lead.
Downward pressure on yields could continue if inflation remains low, and the yield curve could flatten further. A major event that could contain the fall in bond yields is the passage of the tax bill, which could be completed before the government's Christmas break.
In the next part of this series, we'll analyze how the European Central Bank helped the gains in the euro.