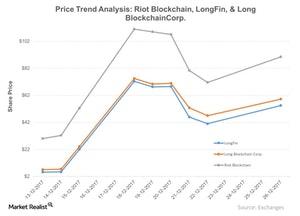 How Are Blockchain Stocks Performing in December?
Blockchain stocks
After what was likely the worst week for cryptocurrencies since 2013, there is a ray of sunshine since most of them have revived. The stocks that joined the cryptocurrencies in their fall were Longfin (LFIN), Riot Blockchain (RIOT), and Long Blockchain (LTEA).
As seen in the chart below, the sudden rise in bitcoin and other cryptocurrencies was beneficial for these stocks since they are heavily invested in cryptocurrencies. However, they are also more volatile than the overall equity market (QQQ). The trends in the S&P 500 Index (SPX-INDEX) and these stocks differed since blockchain-associated stocks reacted closely to the performances of cryptocurrencies rather than equities.
Between December 18 and December 22, Longfin and Riot Blockchain fell 76% and 49%, respectively. Long Blockchain, previously known as Long Island Iced Tea, steadily rose to $6.90 as of December 21 but then fell 25%.
Article continues below advertisement
Top gainers and losers
Among the top-performing cryptocurrencies over the past 24 hours (as of 4:00 am EST on December 27, 2017) are Kilo Coin (or KLC), Janus (or JNS), Sojourn (or SOJ), and Embercoin (or EMB). They have risen of 2,425%, 1,217%, 736%, and 460%, respectively. The top losing cryptocurrencies over the same 24 hours are Future Digital (or FDC), PeaceCoin (or PEC), Printerium (or PRX), and Prospectors Gold (or PGL). They fell 94.3%, 91%, 68.2%, and 68%, respectively.