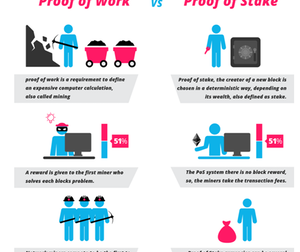 Has the Bitcoin and Cryptocurrency Boom Cooled?
By Puja Tayal

Updated
A look at the bitcoin and cryptocurrency market 
The bitcoin trend has attracted the attention of cryptocurrency miners on GPUs (graphics processing units) because miners use GPUs to solve the complex mathematical problems faster in order to mine more currency. The increasing number of miners made the problems more complex, thereby reducing the impact of GPUs in solving the problems.
This impacted GPU sales to crypto miners. NVIDIA's (NVDA) revenue from crypto cards fell to about $70 million in fiscal 3Q18, down from $150 million in fiscal 2Q18. Even Advanced Micro Devices' (AMD) GPU revenue fell in fiscal 3Q17.
There are fears that ethereum could scrap the method of solving math problems for payment verification and instead adopt a "proof of stake" system wherein payment verification happens through voting. If this happens, miners would no longer need GPU's computing power for mining currency.
For this reason, some analysts became pessimistic, stating that the crypto boom would be nearing its end. But RBC Capital's analyst Mitch Steves thinks otherwise.  
Article continues below advertisement
Other analyst views on the cryptocurrency trend
Steves stated that bigger cryptocurrencies like bitcoin and ethereum may not contribute to NVIDIA's earnings, while other new currencies could. Smaller currencies are using bitcoin's technology after making some amendments making the currency faster, more liquid, and less volatile.
Steves also noted that other, less-known cryptocurrencies are seeing significant growth in value. Litecoin is making new records, for example, and ripple has already overtaken litecoin to become the fourth-largest cryptocurrency by market capitalization. Cboe has started offering future contracts for bitcoin, and CME would follow.
Steves didn't give any short-term outlook for cryptocurrency, however, but he stated that this market is here to stay and will likely grow in the longer term. Steves expects the cryptocurrency market to grow from $500 billion at present to $10 trillion in the long term. The growth in this space would drive demand for NVIDIA's and AMD's GPUs.
That said, Marketocracy fund manager Rex Jacobsen believes that crypto miners might adopt ASICs (application-specific integrated circuits) in the future because they deliver better mining performances than GPUs. Jacobsen also noted that this wouldn't likely impact NVIDIA because the company depends on AI (artificial intelligence) and deep learning for growth.
Next, we'll discuss NVIDIA's progress in the AI and deep learning space.