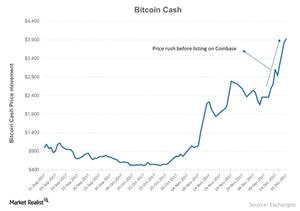 Bitcoin, Bitcoin Cash, and Bitconnect: What's the Difference?
By Meera Shawn

Updated
Bitcoin outperformed bitcoin cash
In August 2017, bitcoin split into two, which created bitcoin cash. This move aimed to combat bitcoin's high transaction fees and the size limit. Higher prices make mining larger blocks of data more cumbersome. Bitcoin cash is the third largest cryptocurrency in terms of market capitalization. It was trading close to $3,758 on December 20, 2017.
The growth in bitcoin cash (BCH) has been less aggressive than bitcoin's (BTC) growth. Bitcoin has rallied about 650% since bitcoin cash was launched, while bitcoin cash has managed a gain of approximately 390% during the same timeframe.
Article continues below advertisement
Insider trading
Coinbase launched a probe into insider trading shortly before bitcoin cash was officially introduced to the Coinbase Exchange. It artificially inflated the price, which led to a sudden spike in bitcoin cash's valuation. Coinbase, therefore, suspended trading of the digital currency.
The launch of bitcoin cash on Coinibase proved to be negative for other cryptocurrencies, as most of them experienced a down day. Litecoin, ripple, cardano, NEM, and stellar were down 8%, 2.6%, 15.8%, and 5.2%, respectively, on December 20. Charlie Lee, the creator of litecoin (LTC), the world's fifth biggest cryptocurrency, sold all his litecoin after earning a whopping 7,500% return.
Bitconnect
Bitconnect also suffered 6.2%. Bitconnect's goal is to allow users to lend bitcoin to the platform itself and generate interest on it. Bitconnect coin (or BCC) is a scrypt with the added feature that it earns interest on coins. Bitconnect had been accused of being a Ponzi scheme, and the UK government issued Bitconnect a notice mentioning that it had two months to prove its legitimacy or it would be dissolved.