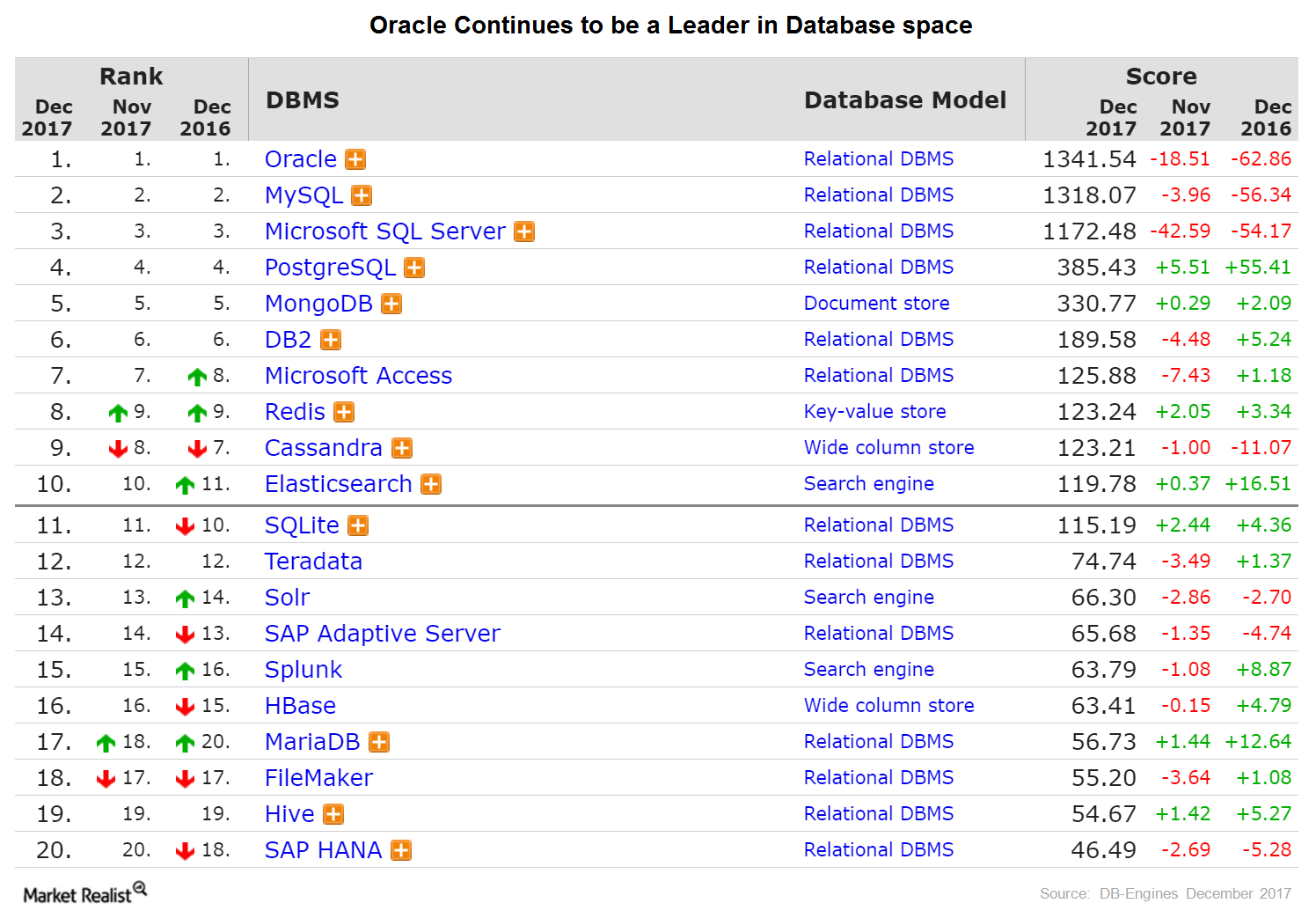 How Big Data and Digitization Could Help Oracle
By Anne Shields

Dec. 18 2017, Updated 9:00 a.m. ET
Oracle's Autonomous Database Cloud
Recently, Oracle (ORCL) unveiled its next-generation Oracle Autonomous Database Cloud. The Oracle Autonomous Database Cloud, powered by its Database 18c, uses ML (machine learning) to enable mechanization. With Oracle 18c, Oracle aims to remove human intervention by automating technologies such as provisioning, patching, and upgrading. The cybersecurity system is the new key feature of Oracle's new database system.
Article continues below advertisement
Though Oracle continues to be a leader in the database space, both Amazon.com (AMZN) and Microsoft (MSFT) are steadily moving up in the database space by expanding their database offerings, giving stiff competition to Oracle. Only time will tell if Oracle's new cloud-based database offering will help it get hold of the market share it lost to its competitors.
The database is a B2B (business-to-business) offering that will take a while to see a considerable increase in its adoption. Businesses seem to be skeptical about changing their chosen databases.
Once data goes into a particular database, chief information officers try their level best to keep it there. Their dependence on the database, coupled with the associated costs in shifting to another database, makes the process of switching to a new database expensive and tedious. Oracle has an edge over its peers because it enjoys a high customer stickiness.
Factors driving growth in DBMS space
The increased adoption of cloud and big data analytics has made data an integral part of every organization. Big data and digitization are expected to drive growth in the DBMS space. Oracle, as a leader in the DBMS software space, will likely be the primary beneficiary of increased growth and spending in this space.
According to a recent report by Market Research Future, the global DBMS space market is expected to grow at a compound annual growth rate of 8% from 2016 to 2022 and to reach $63 billion by 2022.