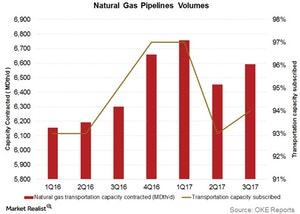 ONEOK's Natural Gas Pipelines Segment's Volume Growth
By Rekha Khandelwal, CFA

Dec. 4 2020, Updated 10:53 a.m. ET
Recent performance
ONEOK's (OKE) natural gas transportation capacity contracted was 6,593 Mdth/d (thousand dekatherms per day) in 3Q17 up from 6,300 Mdth/d in 3Q16. The WesTex Pipeline expansion in 2016 contributed to the segment's increased transportation capacity. Higher fee-based earnings and increased capacity contracted contributed to the segment's 3Q17 results.
ONEOK's Natural Gas Pipelines segment transports and stores natural gas. The above graph shows the segment's gas transportation capacity contracted and percentage capacity subscribed.
Article continues below advertisement
Contracted capacity
Nearly 93% of the segment's transportation capacity is contracted for 2017 under firm demand-based rates. More than 65% of the segment's natural gas storage capacity is also contracted for the year. The segment has 6,655 miles of pipelines and 50 Bcf (billion cubic feet) of active storage capacity.
ONEOK's Roadrunner Gas Transmission Pipeline project and WesTex Pipeline expansion enhance its export capacity to Mexico. Both of the projects are backed by long-term contracts.
The Northern Border Pipeline, in which ONEOK has a 50% ownership interest, has substantially contracted all of its long-haul transportation capacity through 1Q20. ONEOK made a contribution of $83 million to the Northern Border Pipeline in 3Q17. The Roadrunner Pipeline, in which ONEOK has a 50% ownership interest, has contracted all of its capacity through 2041.
To learn about Enterprise Products Partners' (EPD) segments, read This Drove Enterprise Products Partners' 3Q17 Earnings.
In the next part of this series, we'll analyze ONEOK's cash flows, capital expenditures, and upcoming capital projects.