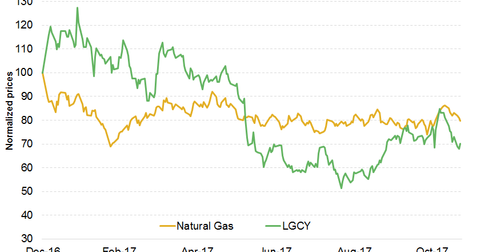 Analyzing LGCY's Correlation with Natural Gas
By Kurt Gallon

Updated
LGCY versus natural gas
Legacy Reserves (LGCY), an upstream MLP, is in the fourth spot in terms of its correlation with natural gas. LGCY's three-month correlation with natural gas was 0.31 as of November 27, 2017. However, the one-year correlation between LGCY and natural gas is close to zero at 0.06.
Legacy Reserves has a higher correlation with natural gas compared to peers EV Energy Partners (EVEP) and Mid-Con Energy Partners (MCEP), which could be due to the partnership's higher natural gas exposure and lower crude oil exposure compared to its peers. Natural gas sales formed 38.4% of the partnership's revenue mix in the third quarter of 2017, while crude oil formed 55.3%. Thus, the partnership had a higher three-month correlation with crude oil at 0.39. The volatility in natural gas and crude oil prices has a direct impact on LGCY's earnings and liquidity, which in turn impact the partnership's stock performance.
Analysts' recommendations
Only one analyst currently covers LGCY, and that analyst rates the partnership as a "sell." In the next article, we'll look into the correlation between DCP Midstream (DCP) and natural gas.