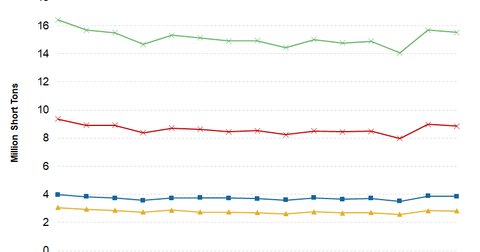 Analyzing Coal Production's Recent Fall
By Alexis Tate

Updated
Weekly coal shipments
On December 14, the EIA (Energy Information Administration) issued its coal shipment estimates for the week of December 9. These weekly announcements are based on the volume of coal loaded onto train cars during the respective week. Coal forms a substantial part of freight revenue for railway freight companies like Union Pacific (UNP) and Norfolk Southern (NSC).
For the week ended December 9, US coal production fell nearly 1.0% to 15.5 MMst (million short tons) from 15.7 MMst in the previous week. However, the coal produced for the week ended December 9 rose 0.4% on a YoY (year-over-year) basis.
On a week-over-week basis, coal mined from all three chief coal mining regions fell marginally.
The Appalachian region produced an estimate of ~3.86 million short tons of coal, nearly 0.4% lower than the amount produced during the previous week. Likewise, coal production in the Interior region fell almost 1.1% to ~2.81 million short tons during the period.
The Western region's coal production estimate, according to the EIA report, is nearly 8.86 million short tons. The volume is 1.35% lower than the previous week's production quantity.
Article continues below advertisement
Coal shipments and short-term issues
For notable (KOL) coal companies like Westmoreland Company (WLB) and Cloud Peak Energy (CLD), the amount of coal to be mined is directly linked to the extent of its demand.
Coal shipments, on the other hand, depend on competition from low-cost non-renewable fuels and the availability of rail infrastructure.  Therefore, coal's production and shipments are linked.
Shipment variations may arise in the short term if railcars aren't not available, if there are supply-related roadblocks, or if there are unfavorable weather conditions. Due to these short-term issues, one shouldn't come to any judgments based only on weekly shipment data—these results could be misleading.
In the last part of this series, let's review coal prices in the three chief coal-producing regions.