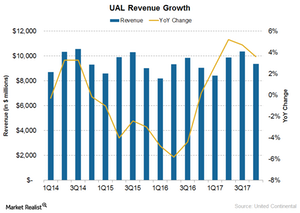 What Analysts Are Expecting for United Continental
By Ally Schmidt

Dec. 14 2017, Updated 12:42 p.m. ET
Revenue estimate
For the fourth quarter of 2017, analysts are expecting United Continental's (UAL) revenue to rise 1.9% YoY (year-over-year) to $9.2 billion. Its revenue has risen 2.8% YoY to $8.4 billion. For the second quarter, its revenues rose 6.4% YoY to $10 billion. Its third-quarter revenues took a slight hit due to the hurricanes and price discounting, falling 0.35% YoY to $9.9 billion.
As a result, analysts expect UAL to have 2017 revenue growth of 2.7% YoY to $37.5 billion. The revenue growth momentum is expected to continue in 2018 with a 4.6% YoY growth to $39.3 billion. For 2019, revenues are expected to rise 4.7% YoY to $41.1 billion.
Article continues below advertisement
EBITDA estimate
Despite revenue growth, EBITDA (earnings before interest, tax, depreciation, and amortization) is expected to fall in 2017, primarily due to increased operating expenses. For 4Q17, EBITDA is expected to fall 12.2% YoY to $1.3 billion. Its EBITDA margin fell from 14.9% in 4Q16 to 13.1% in 4Q17.
The carrier's EBITDA fell 37% YoY to $830 million in the first quarter as margins fell to 9.9% in 1Q17 compared to 16.1% in 1Q16. In the second quarter, EBITDA improved 7.3% YoY to $2.1 billion. Its EBITDA margin improved from 21.1% in 2Q16 to 21.3% in 2Q17.
Because of this positive performance in 2Q17, analysts and management both predicted rising profits for the rest of the year. However, due to the unexpected disruption caused by the hurricanes, earnings once again fell 15.2% YoY to $1.8 billion. The EBITDA margin fell to 18.7% in 3Q17 compared to 21.9% in 3Q16.
That's expected to lead to a 2017 EBITDA loss of 10.5% YoY to $6.2 billion. UAL is expected to record a small growth of 1.2% YoY to $6.3 billion in 2018.
Earnings estimate
For the fourth quarter of 2017, EPS (earnings per share) is expected to fall 47.3% YoY to $0.94. For 2017, EPS is expected to fall 26.9% YoY to $6.32.
Investors can gain exposure to United Continental by investing in the First Trust Nasdaq Transportation ETF (FTXR), which holds 6.5% of its portfolio in UAL. FTXR also holds 4.1% each in Delta Air Lines (DAL) and American Airlines (AAL). It has another 1.5% in Spirit Airlines (SAVE).