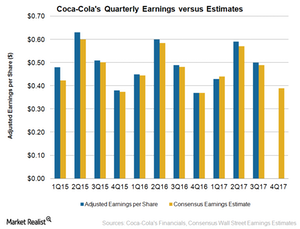 What Analysts Expect from Coca-Cola's Earnings
Earnings trend
Coca-Cola (KO) surpassed analysts' earnings expectations in 2Q17 and 3Q17 after lagging behind the estimates in the first quarter. In 3Q17, its adjusted EPS (earnings per share) rose on a year-over-year basis after falling for nine straight quarters.
The company reported an improvement in its gross and operating margins in 3Q17.
Article continues below advertisement
Improved 3Q17 earnings
Coca-Cola's adjusted EPS rose 2% on a year-over-year basis to $0.50 in 3Q17. Despite lower revenue, growth in the company's 3Q17 adjusted EPS was driven by continued expense management.
Rival PepsiCo's (PEP) adjusted EPS rose 5.7% to $1.48 in fiscal 3Q17, driven by a higher operating margin and a lower effective tax rate.
To mitigate the impact of lower revenue, Coca-Cola has been taking several productivity initiatives. In April 2017, it announced the expansion of its $3 billion productivity and reinvestment program to target incremental annualized savings of $800 million by 2019. Under this program, the company aims to enhance its productivity by driving efficiencies in supply chain and marketing expenditures and transitioning to a more agile operating model.
Earnings outlook
Analysts expect Coca-Cola's adjusted EPS in 4Q17 to rise 5% to $0.39.
According to guidance issued in October 2017, the company expects its 2017 adjusted EPS to be flat to a 2% fall compared to $1.91 in 2016. Structural headwinds (mainly the refranchising of bottling operations) and adverse currency fluctuations are expected to impact the company's bottom line in 4Q17 and 2017.
We'll look at Coca-Cola's shareholder returns in the next and final part of this series.