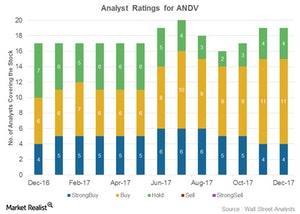 Analyst Ratings for Andeavor: Who Raised ANDV's Target Price?
Analysts' ratings for Andeavor
The analyst rating graph below shows that 15 of the 19 analysts covering Andeavor (ANDV) rated it as a "buy" in December 2017. Another four analysts rated ANDV as a "hold." ANDV's mean price target of $124.00 per share implies an ~19% gain from the current level.
Article continues below advertisement
Changes in target prices in 4Q17
After its 3Q17 earnings release, Andeavor witnessed rises as well as cuts to its target prices issued by various financial firms. Recently, J.P. Morgan raised its target price for ANDV from $121.00 per share to $126.00 per share. Barclays increased ANDV's target price from $121.00 per share to $147.00 per share.
However, Jefferies cut its target price for Andeavor to $108.00 per share. Jefferies gave a "hold" rating on the stock. RBC lowered its target price for Andeavor from $109.00 per share to $107.00 per share.
Peers' ratings
ANDV's peers Valero Energy (VLO), Phillips 66 (PSX), and Marathon Petroleum (MPC) received "buy" ratings by 42%, 42%, and 72% of analysts, respectively.
Among the smaller players, Delek US Holdings (DK), PBF Energy (PBF), and HollyFrontier (HFC) were rated as a "buy" by 64%, 35%, and 29% of analysts, respectively.
Why the "buy" ratings?
Andeavor (ANDV) is moving on its growth path with its acquisitions, including the recent Western Refining (or WNR) acquisition. Andeavor is continuing to integrate WNR.
Andeavor has achieved $110.0 million of synergies on an annual run-rate basis. The company expects annual synergies of around $350.0 million–$425.0 million from the integration of WNR by June 2019.
Andeavor has ongoing capex activities across its business segments in Refining, Logistics, and Marketing. We will look at these details later in the series. Overall, Andeavor expects operational improvements of $475.0 million–$575.0 million in 2017.
ANDV's acquisition and capex activities, which could result in higher earnings, may have led these analysts to rate Andeavor as a "buy."
In the next part, we'll see what analysts expect from Andeavor's dividend in 4Q17.