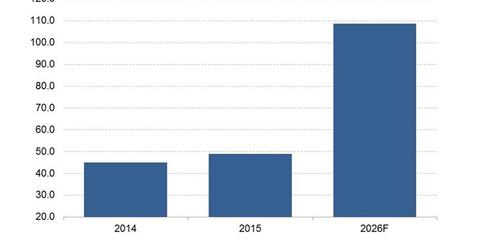 Could Amazon Be Preparing to Launch a YouTube Competitor?
By Neha Gupta

Updated
Netflix spending $6.0 billion on content
Amazon (AMZN) is not new to the online video business, but a substantial amount of its recent video efforts have focused on the subscription video-on-demand (or SVOD) market. In the SVOD market, providers are largely in charge of their content library.
These providers license their content from film studios or invest in creating content themselves. Amazon and Netflix (NFLX), two leading players in the global SVOD industry, invest billions of dollars in their subscription video services.
Netflix, for example, planned to spend $6.0 billion on content acquisition and creation in 2017, and the budget is expected to swell in 2018. Future Market Insights forecasts that the global SVOD market would be worth $108.6 billion by 2026, compared with $45.0 billion in 2014.
Article continues below advertisement
Amazon files for trademarks
In addition to SVOD, Amazon appears to be showing interest in the YouTube model in which content mostly comes from users, reducing the expenses in providing online video content.
According to TV Answer Man, Amazon recently filed to patent two trademarks with the US (SPY) Patent and Trademark Office. The two trademark names the company has sought to patent are Amazon Tube and Open Tube.
The use of "tube" in these names is not the only sign that Amazon could be working on a YouTube rival. The descriptions Amazon provided as part of its trademark filings reveal additional insight.
For example, the company discussed Amazon Tube or Open Tube being providers of non-downloadable prerecorded audio and video content distributed over wireless networks. It further mentioned services that let users upload and share content, which sounds similar to what YouTube does.
Amazon–Google reciprocity issues
Of note is that Amazon's trademark filing for the Amazon Tube and Open Tube names came the day that Google, the Alphabet (GOOGL) unit that operates YouTube, announced that it was blocking the video service from certain Amazon devices because of a "lack of reciprocity" by Amazon.
Whatever Amazon plans to do next, an expansion of its video ambitions could spark fierce competition for content with Netflix, Apple (AAPL), Facebook (FB), and Google.