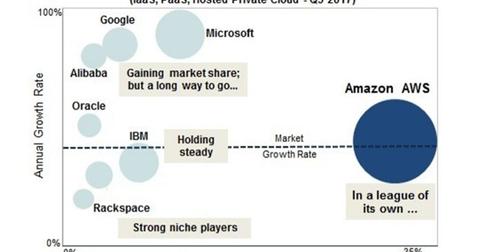 How Amazon Business Prime Could Fit In with Amazon Web Services
By Ruchi Gupta

Updated
Leveraging Prime for businesses to recruit cloud customers
The launch of Amazon's (AMZN) Business Prime Shipping service, the version of its Prime membership program that's aimed at companies, underscores Amazon's interest in winning over more corporate customers. While the primary focus of the Business Prime service seems to be driving more e-commerce sales on Amazon, Amazon's cloud-computing business could also benefit from the service.
Amazon's Prime service, which offers free delivery for a wide range of items, is about building a loyal customer base. With a loyal customer base comes an upselling opportunity. Therefore, Amazon could capitalize on the loyalty of its business shoppers enabled by the Business Prime service in order to pitch its cloud-computing services to them.
Article continues below advertisement
Pressure to defend the cloud market
As the cloud-computing market continues to heat up with competition, Amazon is constantly on the lookout for new ways to grow its market share. Its Business Prime membership could fit in with this goal.
In 3Q17, Amazon's cloud unit, Amazon Web Services, reported a 42% YoY (year-over-year) rise in sales. Microsoft (MSFT), Alphabet (GOOGL), and China-based (MCHI) Alibaba (BABA) reported cloud revenue rises of 90%, 40%, and 99%, respectively, in 3Q17. According to Synergy Research, Amazon leads in the cloud-vendor market: more than one-third of the global cloud market was under AWS's control in 3Q17.
As the market leader, however, Amazon is the target of its cloud-computing rivals. It faces immense competitive pressure that necessitates its developing innovative ways to defend and grow its market share at the same time.
AWS is Amazon's profit machine
Cloud computing means a lot to Amazon considering that AWS is its most profitable segment. AWS recorded an operating profit of $1.2 billion in 3Q17, offsetting the operating loss of $824 million in Amazon's e-commerce segment so that the company could post an overall operating profit of $347 million in the quarter.