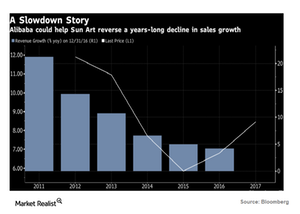 Why Alibaba Has Invested in China's Sun Art Retail Group
By Sophia Nicholson

Updated
Alibaba buys stake in Sun Art
Online giant Alibaba (BABA) is investing 22.4 billion Hong Kong dollars (about $2.9 billion) in China's largest grocery retailer, Sun Art Retail Group, to grow its footprint in the brick-and-mortar space. The company is buying a 36.2% stake in Sun Art from Ruentex Group, making it the second-largest holder in Hong-Kong listed Sun Art, which has been facing slowing top-line growth for years.
French retailer Groupe Auchan raised its stake to 36.2% as part of the deal and became the top holder in Sun Art. Meanwhile, Ruentex has a 4.7% share of Sun Art, which runs approximately 450 hypermarkets under the RT-Mart and Auchan banners in China.
Sun Art investment aims to push strategy
Through this investment, Chinese e-commerce giant Alibaba has taken another step forward in its "New Retail" strategy, which aims to merge online shopping and physical stores. Furthermore, Alibaba is focusing on improving physical store layouts using data-driven technology and managing inventory and customer data.
Alibaba has been witnessing slowing growth in the online space and is facing competition from peers eBay (EBAY), Amazon (AMZN), and JD.com (JD). As a result, the company prefers to go beyond the online business and expand in the offline space. The investment in Sun Art will give Alibaba access to China's food retail sector, which is worth approximately $5 trillion, escalating competition for rival Walmart (WMT).