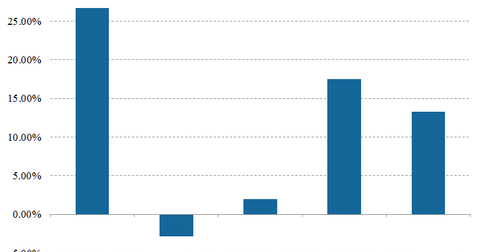 Why Akamai Tech Stock Rose Last Week
By Adam Rogers

Updated
Akamai stock rose 13.3% last week
Internet (FDN) firm Akamai Tech (AKAM) rose 13.3% in the week ended December 22, 2017, to close at $65.45. Akamai is now trading 47% above its 52-week low of $44.65 and 9% below its 52-week high of $71.64. Akamai stock has generated returns of -3% in the trailing 12-month period after rising almost 27% in 2016. Let's look at why the stock rose last week.
Activist hedge fund investments
Activist hedge fund Elliott Management has reportedly acquired a stake of 6.5% in Akamai Tech. This drove the share price of Akamai higher by 13% on December 18, 2017. Increases in a company's stake by an activist hedge fund are generally viewed as a positive by analysts and investors.
According to a Motley Fool report, activist investors generally focus on improving shareholder value, and a few research firms have already increased Akamai's 12-month price target. While Oppenheimer analyst Tim Horan expects Elliott Management to improve Akamai's profitability, Brad Zelnick from Credit Suisse has increased the firm's price target to $75 from $55. Both analysts also believe Akamai to be an attractive acquisition target as well.
Of the 26 analysts covering Akamai, 13 recommend a "buy," while two recommend a "sell," and 11 recommend a "hold." Analysts have an average 12-month price target of $65.59 with a mean target of $63.5, which indicates that the stock is trading at a premium of 3% to analyst target estimates.
Akamai stock has been volatile this year. While shares declined after the firm reported 1Q17 and 2Q17 results, it rose after 3Q17 results beat estimates. However, this volatility has meant a return of just over 2% in 2017 for investors. Since August 2017, Akamai's stock has risen by over 37%.